Police: Digital Forensics and Evidence
In our digital world, evidence and forensics collected by Scenes of Crime Officers (SOCO's) and Crime Scene Investigators (CSI's) aren't always tangible; many times, it is digital. Getac solutions give digital forensic examiners the ability to collect and analyse information at the scene, allowing the investigating officer swift access to critical data and enabling improved operational decision making.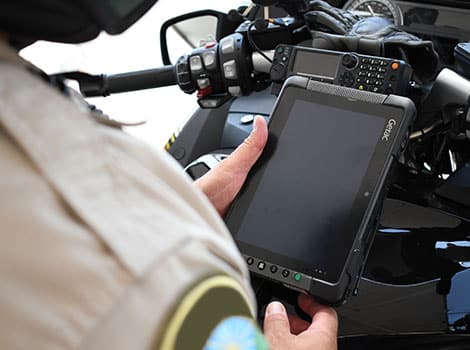 Securing digital evidence
During the investigative process, officers are gathering and documenting information from the place of interest or crime scene; this can include photos and evidence logging. The data collected is sensitive and requires special treatment based on procedural guidelines. To ensure the safe and auditable access and / or safe encrypted transportation of digital evidence, Getac solutions offer built-in TPM 2.0 and smart card readers with optional add-on security features such as fingerprint and RFID readers.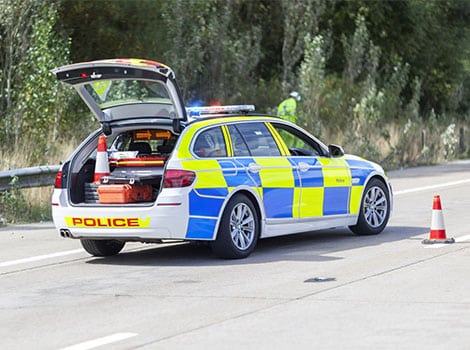 Evidence gathering made easy
Whether sitting in your vehicle or standing at a crime scene, bring your Getac solution with you. Weighing just a few pounds and featuring configurable carry accessories, evidence collection has never been more comfortable. Our LumiBond® touchscreen with digitiser allows you to use a pen, stylus, fingers, or gloves, to enter information and use a digital pen to accurately capture signatures for digital statements or enabling you to make notes on forms or maps.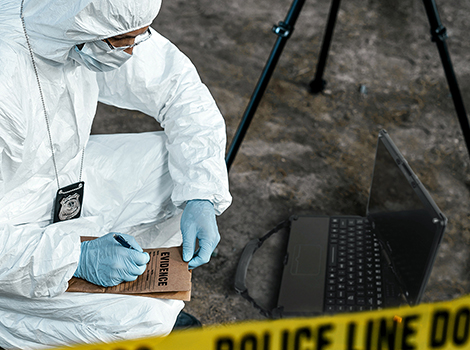 Ensuring the chain of custody even in harsh conditions
Collecting evidence means working in challenging conditions, and Getac's rugged solutions are built to withstand extreme environments. Independently tested and certified to the stringent military testing standards of MIL-STD 810H and IP67 meaning our solutions are designed to exceed the working environments law enforcement personnel have to operate in, are easily read in bright sunlight or can be easily typed on in the darkest of conditions.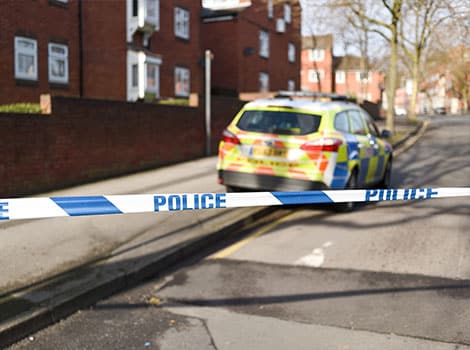 Police digital forensics without battery limits
Decrypting and analysing data from platforms, including mobile phones and tablets, takes time. Now, you don't have to worry about your device running out of battery thanks to Getac's hot-swapping technology. Quickly change out your battery without having to turn off your device, apps, or operating system.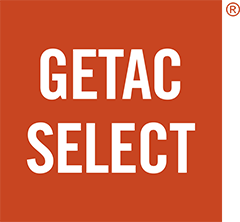 What is "Getac Select® Solutions?"
As a leader in providing rugged mobile solutions in the industry, we listen to customers and want to take our Customer Experiences to the next level. We understand the challenges in your daily business and the frustrations you may have while selecting suitable solutions to achieve your business objectives or solving these challenges. To further separate Getac from the competition, Getac now offers a comprehensive Industry solutions program, called "Getac Select® Solutions". With our years of industry knowledge and experience, and combined with our successful deployments to our customers globally, "Getac Select® Solutions" shortlists the most appropriate solution options for you to choose from.
Need a quote? Let's talk!