Disclaimer: This is a paid guest post from an industry expert. Any views or opinions stated in this article are personal, belong solely to the guest author, and do not reflect the official policy or position of Getac.
Failing devices often lead to financial issues due to decreased productivity and data losses, preventing workers from completing tasks on time. Commercial off-the-shelf (COTS) equipment is known for failing more frequently on the frontlines than rugged devices.
Rugged devices are not only about durability. They provide stability over time through their form factor, accessories, operating system (OS) support, drivers and product, and spare part availability. These positively impact the total cost of ownership (TCO) and reduce business risk.
Rugged mobile device manufacturers engineer their products to work better than COTS devices. Rugged computers work in situations that have bright sunlight, considerable temperature variations, exposure to environmental impact, extended operating hours, and when working with gloves. It renders better frontline worker experience at a typically lower TCO.
Word of caution: not all equipment marketed as rugged is engineered to the exact stringent specifications or uses a modern, up-to-date platform.
The Rise of Frontline Workers
Frontline workers are not typically desk-bound. Globally, frontline workers outnumber desk-bound workers by almost 4 to 1 (about 2.8 billion of the 3.55 billion workers overall).
During the pandemic, many enterprises urged frontline workers to change their work and improve their skill sets. Today, they operate more as remote workers due to advancements such as remote expert guidance, remote certifications, and collaborative work management.
Increasingly, enterprises have exposed their frontline workers to growing Internet of Things (IoT) capabilities. These come in the form of dashboards or work orders and tasks auto-generated from real-time IoT data or video stream analysis. Many of these changes have now become future workplace trends and best practises.
Rugged Beyond Drop Specifications
There are many good reasons for buying rugged equipment besides its ability to withstand drops.
Here is a list of reasons that, when considered together, contribute to an attractive TCO compared to COTS devices despite its higher initial purchase price.
More Comprehensive Service Wrap and Third-Party Accessories
Rugged devices typically come with more extensive warranties and optional support packages.


Extensive ecosystem of purpose-built accessories, both from the manufacturer and third parties


Enhanced monitoring capabilities provided by the vendor or a third-party such as B2M solutions, give better insights into the device's state and how the software performs.
Designed for Longer Product Lifecycle/Availability
Rugged devices have longer product cycles because they are usually based on long-term stable chipsets. This means the chipset vendor makes commitments to continue producing the chipset for longer than those used in COTS devices.
This design enables the rugged device vendor to keep producing the same product for an extended period, typically around five years.
From a customer's perspective, this means that the same device will be available for purchase for a long time. This feature reduces the need for re-testing or re-certification.
Similarly, spare parts will be available for an extended period. It's reasonable to expect 5-7 years of use out of a rugged device from a reputable vendor.
The OS support for a given version of a COTS device is typically up to 30 months. The user will then have to upgrade to a new version of the OS to get support or security patches.
On the other hand, rugged vendors, on average, commit to supporting the shipping version of the OS for five years. This enables organisations to upgrade when there is business value and not when forced. Rugged vendors perform upgrades supported by the OS provider.
Many accessories, like chargers, can be reused with new products. This reduces the cost of migrating to a new product generation, helping to lower TCO, minimise business risk, and improve sustainability.
Ergonomics and User Productivity
Screen, battery, and ergonomics are optimised for challenging frontline worker scenarios. Such environments include working under bright sunlight, extended hours without charging, and using the device with gloves in varying temperatures.


Programmable buttons are typically available and placed in ergonomic locations. Some button configurations include scanning a barcode, initiating a VoIP call, or launching an application.


Professional-grade charging solutions allow multiple devices to be charged simultaneously on a small footprint without connecting and disconnecting cables. These charging solutions will also charge both the device and spare batteries concurrently.


Removable batteries, usually with high-capacity and hot-swappable capabilities, allow for extended or non-stop use of the device even in demanding environments.
Additional Features for Productivity
Imager that reads barcodes more reliably and from a longer distance. Some can even read multiple barcodes in a single read (e.g., part number and serial number).


Smart card readers, credit card readers, and RFID readers


Hand and shoulder straps, belt clips, and trigger handles for ergonomic use
Other Functional Benefits
The temperature range that a rugged device can operate is usually much more comprehensive than COTS devices that are optimized for climate-controlled areas.


Higher-grade components and more advanced mounting technologies enable the rugged devices to handle vibrations better than COTS devices.
Customised Rugged Devices for Select Verticals
Rugged devices in the healthcare vertical can be developed with special anti-microbial plastics. These can withstand aggressive detergents used in hospital environments and designs that minimise the risk of microbial sticking to the device.
Oil and gas, mining, paint manufacturing, and other verticals where flammable gas may be present require intrinsically safe devices.
Not All Rugged Devices Are Created Equal
Rugged devices can be classified into three broad categories. The categories differentiate on the drop specification and the Ingress Protection (IP) ratings.
The IP rating depicts how well the device can withstand solids (the first digit signifies particle size) and water (the second digit). The higher the digit, the better its endurance. The broad rugged categories are:
Semi-rugged devices with a drop specification of typically 4 feet / 1.2 metres or below


Rugged or fully rugged devices with a drop specification of typically 4-6 feet/1.2-1.8 metres


Ultra-Rugged devices with a drop specification of 6 feet/1.8 metres or higher (mostly handheld devices in this category).
COTS devices placed into enclosers or outfitted with bumpers are not considered rugged. These devices do not have the benefits of designed rugged devices even if vendors place COTS devices in slightly better-designed housing to meet drop specifications.
It is also important to avoid purchasing outdated products. Buying products near the end of their lifecycle does not have most of the mentioned advantages.
It may also force an early upgrade as some of the required software may not be compatible with older devices or Oss. It may not support the preferred Private Mobile Network (PMN) technology such as 5G or the latest WLAN standards.
Find out more about the different aspects of rugged devices, ruggedisation, and the test specifications in the Getac Rugged Computing Value Proposition whitepaper.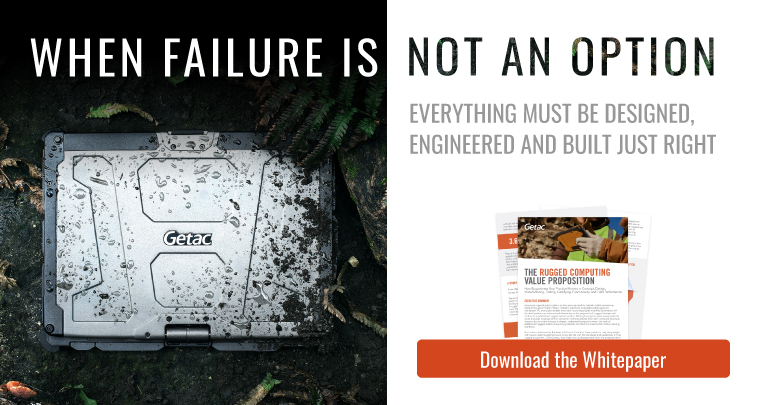 Recommendations
Any procurement of devices for frontline workers needs to assess whether COTS devices will be good enough for the required use case. In most cases, rugged devices will be the optimal choice.
Enterprises need to identify the level of ruggedness required. Once established, they can look for devices built with recent technologies to maximise the product's lifecycle. This includes assessing the shipping OS version, confirming the highest upgradable OS version, and securing the OS vendor's commitment to supporting patches and updates.
Also, only consider Android-based devices listed in the Android Enterprise Recommended Rugged section. Finally, enterprises need to study a complete TCO calculation that considers all aspects for better economic predictability.
From the guest author: The article is based on my own analysis, forecasts, and experience from several hundred interactions with end-user clients with many frontline workers. The labor market size is based on numbers from the International Labour Organisation. All opinions in the article are based on my own expertise.