Military and defense end-user devices (EUDs) often need to perform multiple mission applications. With the potential ongoing budget concerns, multi-function rugged mobile workstations that optimize SWaP-C will be critical. Today, more than ever, one device needs to be able to perform as many mission-critical applications as possible. Some examples include but are not limited to real-time situational awareness, C5ISR, video/telemetry capture, storage & analysis, mission planning & simulation, unmanned aerial vehicle (UAV), and unmanned underwater vehicle (UUV) ground stations operating as a rugged, portable server.
When missions must be performed in the most adverse environments, the EUD requires a unique combination of attributes. Inherently, the device must be rugged enough to withstand harsh climates and downrange conditions without losing power, performance, and connectivity. Whether the mission requirement relies on the latest I/O, or legacy I/O, it must have the ability to scale and expand while maintaining the security and standards required of military/defense PC. The US DOD relies on high-performance yet affordable COTS devices and Getac doesn't disappoint. Designed for defense, Getac leads the industry with its production of products that meet the most demanding rugged standards.
What is a Mobile Workstation?
A mobile workstation is a notebook computer that exceeds the typical design parameters and capabilities of traditional notebooks. This means the device can perform the higher rendering/functioning performance that a workstation requires. In short, a mobile workstation has a larger screen, more onboard memory, larger capacity data storage, higher computing power; and more expansion options than the average notebook, even the average military-grade notebook.
Military Needs of a Fully Rugged Mobile Workstation
At the core of rugged devices used in the military, a tablet, laptop, or mobile workstation must meet the general MIL-spec/defense requirements for a fully-rugged PC. Extreme temperature swings, fine sand, connectivity options, shock, vibration, security, and direct sunlight viewability are all common expectations for a rugged device. Ideally, these rugged devices not only meet and exceed the environmental demands. They are also portable enough to be carried in the ruck and mountable for use in a tactical vehicle. When enhanced performance, high-end processing, server functionality, larger displays for viewing multiple maps, sensors, video feeds, or a multitude of I/O is required, having a rugged mobile workstation that combines the core elements of durability with the need for performance, the options in the market have been limited. Not any longer.
Getac has been supplying electronics for the defense industry for 35 years. We are proud to introduce our next-generation rugged workstation solution. This device is a mobile command center powerhouse capable of handling all the duties listed above, and more.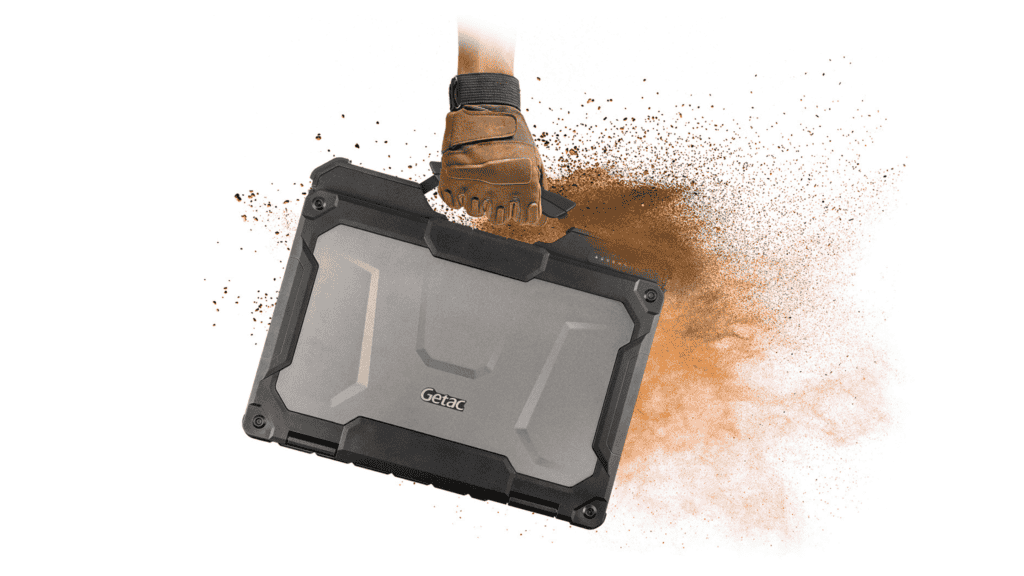 Getac X600: Your Fully Rugged Mobile Workstation
The Getac X600 sets a new benchmark in fully rugged mobile computing. This device brings exceptional performance, expandability, connectivity, and screen quality to a surprisingly compact, lightweight, yet highly durable form factor. The X600 is a highly secure, reliable, and versatile solution. Getac designed this device to meet the needs of the defense industry and various branches of service for a man-portable, commercial-off-the-shelf (COTS) mobile command-center PC that can handle all C5ISR tasks.
Mission-Critical Performance
The X600 is built to offer superior performance throughout its service life. It runs the latest Windows 11 Pro operating system (OS). It also provides several options of CPU with Intel® Core™ 11th gen i5/i7/i9 CPU and integrated Intel® UHD Graphics. With 16GB DDR4 RAM memory as standard (128GB max) and an optional NVIDIA® Quadro® RTX3000 discrete graphics controller, graphics performance is never a hindrance. The X600's dual-fan array keeps key computing components cool and capable (other OS options available for DOD applications).
Expansive Data Storage, Connectivity & Configurability
Data storage goes well beyond the rugged standard, with up to three PCIe solid-state drives (SSDs) available, totaling 6TB, optional RAID support (0, 1, 5), along with the ability for PCI or PCIe expansion. With two (for the X600) RJ45 (2.5GB) LAN ports, and the option for more available (on the X600 Pro), maintaining secure network communications with multiple agencies or branches of service is no problem.
Wireless LAN via the new Wi-Fi 6E standard is also native to the X600. Meanwhile, Thunderbolt 4 (Type-C) offers ultra-high-speed fixed data transmission between devices (and connection to two additional monitors when paired with the onboard HDMI port). Optional 4G-LTE with integrated GPS is also available for mobile communications. There is also an optional dual card reader (Express and/or PCMCIA), and a multimedia bay that can house an optional DVD/Blu-ray drive (X600 Pro only).
Military-Grade Security
The X600 includes the latest in physical and data security features such as:
RNVME self-encrypting toolless-removable storage drives (FIPS 140-2 Drives available)
common SIPR/NIPR functions and need for easily accessible storage
additional Data At Rest (DAR) software security
integrated smart card reader
TPM 2.0
Intel® vPro™ technology
Kensington device lock
Windows Hello face-authentication
optional fingerprint reader
The combination of standard security features and options fully round out the X600's capabilities.
Outstanding Display
The X600 features a sunlight-readable (1,000 nits) and comfortably spacious 15.6" FHD screen featuring Getac's proprietary LumiBond technology, which ensures superior screen readability and color accuracy, and superb touchscreen capabilities, including multi-touch operation in the presence of rain or condensation, with a stylus, or with gloves if necessary.
Fully Rugged & Field-Ready
The X600 at 9.3 lbs. is exceptionally light for a fully rugged mobile workstation notebook, while providing the ruggedness you have come to expect from Getac….and enhancing it. It is MIL-STD-810H-rated for stress, temperature, and impact, IP66-rated for water and dust, MIL-STD-461G-rated against EMI, and it offers users an optional ANSI/UL (C1D2) intrinsic safety rating, along with optional salt fog resistance.

Getac also offers custom-built vehicle mounts, docks, and various other travel harnesses and accessories for both the X600 and the more expandable X600 Pro, with all of this backed up by Getac's industry-leading 3-year bumper-to-bumper warranty and optional Getac Select program.
If you have questions about the X600 range of fully rugged mobile workstations, please contact us at [email protected]. (Getac USA).