In October 2020, Getac became the world's first manufacturer to bring integrated LiFi technology to the rugged computing market. Its industry-leading UX10 fully rugged tablet integrates this capability powered by pureLiFi. The innovation marked a critical turning point in the evolution of rugged computing. This exciting new technology gives customers an entirely new way to operate and communicate with unrivaled speed, security, and reliability.
This two-part blog series explores LiFi technology and how it works before discussing critical industry applications used worldwide.
A powerful new way to communicate
LiFi technology was first demonstrated to a captivated audience in 2011. Professor Harald Haas presented this innovation as part of a world-renowned TED Global talk in 2011. LiFi could completely revolutionize the wireless communication market from the outset, and Professor Haas established pureLiFi and co-founder Dr. Mostafa Afgani the following year. Since then, the pureLiFi team has spent much of the last decade turning that potential into commercial reality.
How does LiFi work?
LiFi technology harnesses the power of solid-state lighting, such as light-emitting diodes (LEDs), to transmit data without radio frequencies. LEDs are semiconductors that can be modulated at excessively high rates. These are undetectable to the human eye but can be identified and decoded by a photodetector. As a result, anywhere there are LEDs, there is the potential to have LiFi-based data transfer and communication in the future. The technology is highly versatile, working indoors, outdoors, bright sunlight, and even in low-light conditions. What's more, LiFi can utilize the entire light spectrum, including infrared, meaning illumination isn't even needed for operation.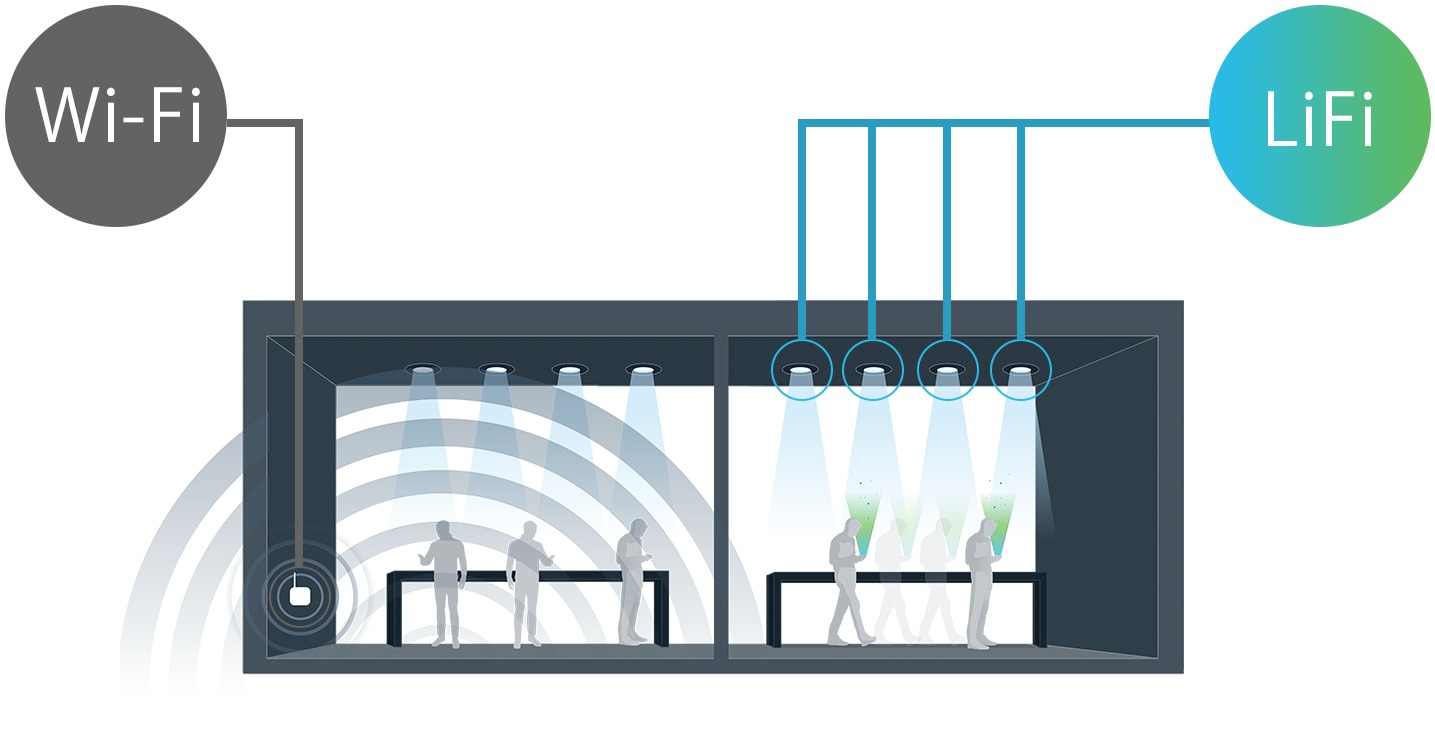 Key benefits
Security is one of the most significant advantages that LiFi technology offers over conventional WiFi solutions. WiFi data signals travel in all directions. This includes signals going through walls and ceilings. However, the unique characteristic of light means LiFi signals are much more controllable. LiFi data can be easily contained in a single room or even a defined cone of light. This makes it inherently secure.
Furthermore, LiFi has virtually no electromagnetic signature, meaning nearby hackers can't penetrate or detect networks. LiFi access points can even look like regular lights and therefore practically invisible.
Of course, the benefits don't just end with speed and security. LiFi signals also boast 3,000 times the density of WiFi signals offering an unparalleled user experience. At the same time, ultra-low latency makes LiFi ideally suited to augmented reality and virtual reality applications.
A new dawn for wireless communications
While LiFi technology is new, its coming impact is clear. Getac and pureLiFi are showing first-hand what they can do for businesses and their long-term data strategies.
Part two of this series will explore real-life practical applications, including sectors where LiFi will significantly impact in the next few years. Stay tuned!