TABLET EX GEAR
At Tablet EX Gear they design and build Chest Packs that provide comfortable, ergonomic solutions for field users of tablet computers.  The packs can be easily customised with the addition of accessories to meet the requirements of professionals in a wide range of industries.  They are a Canadian business that first developed their products to meet the high standards of Western Canada's natural resource professionals.  Through their European, US, and Australian partners they have a dedicated channel team to represent their products worldwide.  Their Chest Packs are now considered by many as essential, mission critical equipment.
*Any collaboration between Getac Technology Corp and Tablet Ex-Gear is currently available in EMEA only.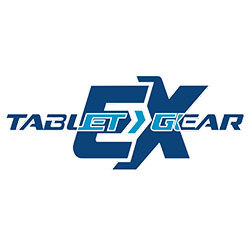 The Ruxton Chest Packs are designed for field users of tablet computers. All three sizes of the Ruxton pack are sold attached to the Comox Harness.
With the sides of the pack unzipped the front folds down to support the tablet in portrait or landscape. This system provides users with a secure, comfortable and ergonomic way to fully utilize the capabilities of Getac's rugged mobile computers.
Users can customize the pack by changing the front to add pockets and/or high visibility orange front covers. Adding a variety of pouches and holsters to the Comox Harness further enhances the versatility of the system.
Comfort, durability, and versatility for remote field-based users of mobile computers…
The combination of Getac's powerful ruggedised mobile computing with Tablet Ex-Gear's comfortable and ergonomic chest packs answers the needs of our field-based customers to provide Getac Total Solutions.
This collaboration helps Getac and Tablet Ex-Gear to further expand into the utilities sector across EMEA.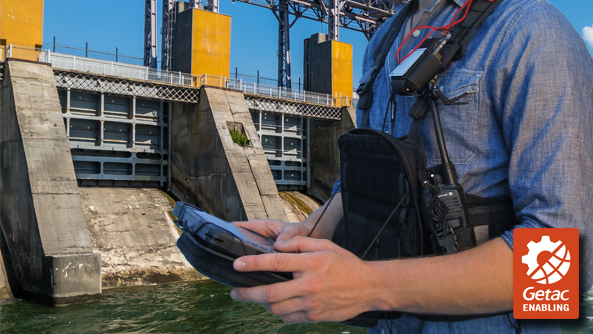 The Ruxton Chest Pack changes the way you work, by enabling you to carry all your field computing equipment on your chest, without limiting movement and keeping your hands free.
For more information about Getac Total Solutions for On-site Safety, Smart Meter Reading and Installation, Utility Asset Management, Mobile GIS, Surveying and Mapping, or Workforce Management, visit our Utilities industry page.
To learn more about Getac Total Solutions, contact a Getac sales representative using the form below…
Do you have a Getac Total Solutions Enquiry? Let's talk!
Join the
GETAC SELECT ENABLING PROGRAM
Growing together to shape our business for tomorrow
Become a Total Solutions Partner