Getac has set the Company's environmental policy with the goal of "Care for the Environment, Sustainable Recycling," for cherishing the Earth's resources, and complying with national environmental laws and regulations. Getac is committed to promoting green production, fulfilling our responsibility to protect the Earth, through standard operating procedures; we include water resource management, energy management, wastewater, waste, and air pollution prevention in our daily management.

All Getac's factories scrupulously abide by the environmental laws and regulations of the plant locations, and all factories have obtained the environmental management system certification of ISO14001 or the same level, and all plants have completed the new version certification of ISO14001:2015.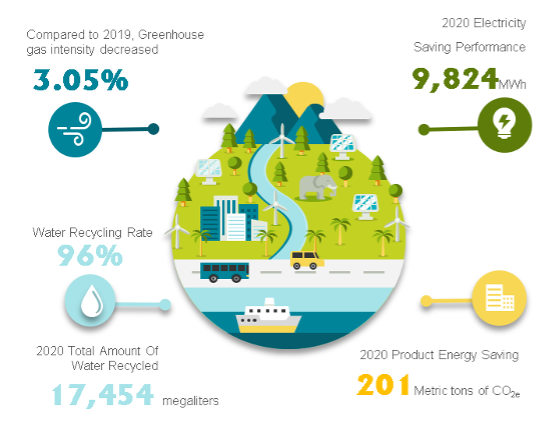 Smart Energy Monitoring
In order to cope with the increasingly severe energy challenges and minimize the impact on the ecology, Getac's plants and products actively obtain environmental-related certifications and promote a number of energy resource productivity improvement plans internally. It is hoped that through intelligent operation management, it will be able to maximize resource utilization efficiency and effectively reduce carbon emissions. Our energy-saving projects in 2020 are estimated to have saved 1,261 MWh. With the accumulated investment in energy-saving projects since 2017 achieving 9,824 MWh of energy savings in 2020, equivalent to 6,208 metric tons of Co2e, equivalent to the annual carbon sequestration of 16 Taipei's Da'an forest parks.
Water Resource Management
The 2030 Sustainable Development Agenda passed by the United Nations will also set: "Ensure that all people have access to water and health facilities of sustainable management," as the key agenda. Based on a philosophy of cherishing global resources, Getac is firmly determined to use every drop of water to maximum effect. Getac continues to invest in process water recycling equipment to conserve water resources and ensure constant recycling and reuse. Water reclamation performance is reviewed on a regular basis. In 2020, the total quantity of reclaimed water reached 17,454 million liters, with reclaimed water accounting for around 96% of total water consumption.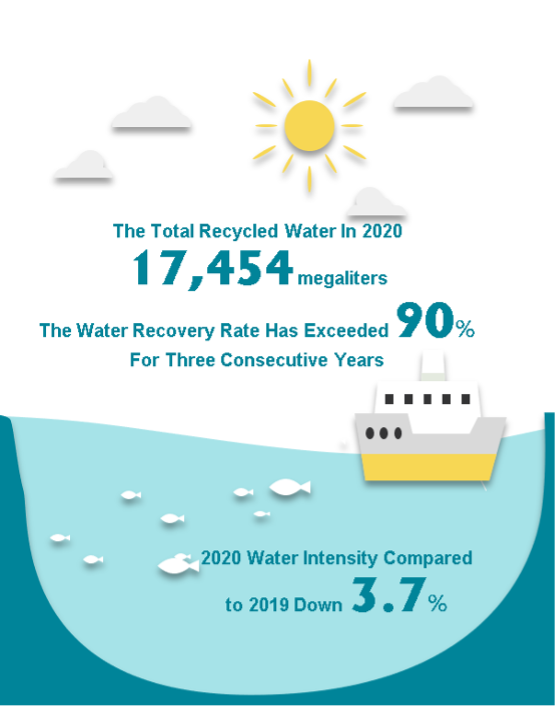 Energy, Emission & Water Data For Each Site*
 
Content
Unit
2018
2019
2020
Energy

Total Energy Consumption
Energy Intensity

Emissions

Total Greenhouse Gas Emissions
Scope 1
Scope 2
Greenhouse Gas Emissions Intensity

Metric tons of CO2e
Metric tons of CO2e
Metric tons of CO2e
Metric tons of CO2e per US$1,000

99,923
10,678
89,245
0.134

114,464
12,039
102,623
0.145

124,315
10,881
113,434
0.141

Water

Water Withdrawn
Water Discharge
Water Consumption
Water Intensity
Water Rrecycling Rrate

Megaliters
Megaliters
Megaliters
Water Withdrawn Megaliters/ per US$1M
**

569.6
275.0
294.6
0.77
91%

640.3
423.7
216.6
0.81
91%

734.4
465.6
268.8
0.78
96%%

Waste
Total Weight
Metric tons
4,375
5,453
5,916
* The boundary of the Report encompasses Getac Technology Corporation HQ(Getac Linkou included), System Product manufacturing site (Getac Kunshan), Combo Mechanical Solution manufacturing sites (MPT Kunshan, MPT Suzhou, MPT Vietnam), and Automotive Mechanical Solution manufacturing sites (Getac Changshu, Getac Vietnam). The scope of disclosure already covers more than 91% of the company's consolidated revenue.
** Amount of water recycled/ (Amount of water recycled + Amount of water withdrawn)
Energy and Environment Management System (Taiwan)
Management System
Awarding Body
Validity Period

ISO 50001: 2018 Energy Management System (Getac Xizhi)
ISO14001: 2015 Environment Management System (Getac Xizhi)

2020/11/22 - 2023/11/21
2020/08/11 - 2023/08/11