Getac's V100 rugged handheld product has received the Computex Best Choice award at Computex 2010 on the strength of its exceptional performance. The award-winning Getac V100 is a compact convertible rugged computer with a rotating 10.4″ LCD display. The rotating LCD display allows it to be used indoors as a notebook with a keyboard for data input, or rotated through 180 degrees and folded flat into a tablet PC with touch control while outdoors. It is designed to provide a high-performance mobile solution to professional outdoor applications for the military, police, public utilities, transportation and field services.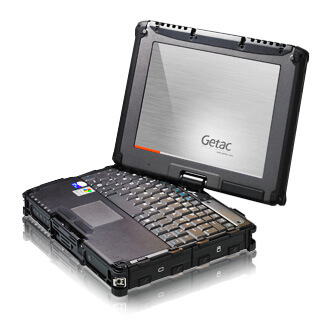 James Hwang, president of Getac Technology Corporation, said that Getac V100 is a mobile computing solution designed specifically for outdoor applications. Everything from its ruggedization, computing performance, storage capacity and wireless connectivity took user intent and scenarios into account. Rugged computers are now increasingly being used for personnel work in the field carrying out inspections, repairs, measurements, stocktaking and sales activities. The high performance mobile computers enable professionals to fill out forms, collect evidence, send/receive data or connect to their headquarters' database on-site. The result is improved employee productivity as well as better operational efficiency for businesses and government agencies.
The Getac V100 features a magnesium-alloy case, shock-protected HDD, vibration and drop resistance and sealed I/O caps and doors to prevent damage from solid particles and moisture. It is both MIL-STD 801G and IP65 certified and was recently ATEX (Category 3/Zone 2) qualified for working environments with an explosive atmosphere. The V100 is equipped with an Ultra Low Voltage Intel® Core™2 Duo processor that has a quiet fan-less design and the power needed for various sophisticated applications. The V100 is a great choice for field applications with the integrated 2-Megapixel camera and GPS receiver. Comprehensive connectivity options are provided, including Bluetooth, WLAN, WWAN and the advanced TPM security module used for safeguarding important data.
The Getac V100 will be on display at Computex Taipei between June 1 and 5 at the Getac Computex booth (L1217, Hall L, TWTC Nangang Exhibition Hall). You are welcome to visit the Getac booth to see our full range of rugged computer products and handheld devices.
About Getac Technology Corporation
Getac Technology Corporation was founded in 1989 as a joint investment with GE General Electric (GE) Aerospace Group to supply defence electronic equipment for military related applications. It is a pioneer in the rugged mobile computing industry, providing Getac branded ultra rugged, rugged and semi-rugged notebook, tablet PC and handheld solutions for the military, law enforcement, public safety, utility, telecommunication, manufacturing, field service and mobile workforce industries. Other than rugged computing solutions. Getac's business focus also includes mainstream commercial notebooks, mobile rugged computers, embedded software solutions and total mechanical solutions. For more information, please go to the official Getac websitehttp://www.getac.com
Press Contact:
Irene Sun/ Public Relations Manger
GetacTechnology Corp.
Email: [email protected]
Tel: +886-2-2785-7888#5184
Website: www.getac.com