Getac UK has secured BS1789 certification for its popular Getac V100 Rugged Convertible Laptop and V-series docking station giving the unit full approval for use in all UK emergency services vehicles.
The standard is designed to ensure that equipment cannot harm crew and passengers in the event of a crash and specifies the requirements for the design, test methods, performance and equipping of road ambulances for the transport of sick or injured persons.
"BS1789 is the standard for all equipment used in emergency vehicles so we are delighted with this endorsement for the V100," explained Peter Molyneux, Vice President of Getac UK. "We know the strength of the V100 and have designed the docking station to be both lightweight and fully configurable to give operators complete flexibility out in the field.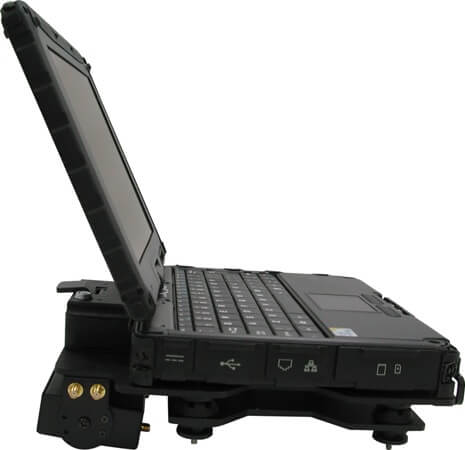 The V100 and its dock were put through rigorous testing at the MIRA (Motor Industry Research Association) facility in Nuneaton, with the whole process overseen by VCA (Vehicle Certification Agency) the national approval authority which decides a set of environmental and safety standards for vehicles.
The rugged V100 laptop is ideal for remote operators using power hungry programs out in the field, with Intel® Turbo Boost technology helping to speed up the processor when extra performance is needed. At the heart of the V100 is a 1.2GHz Intel Core i7-640UM processor which delivers 2.26GHz processing speed thanks to the Turbo Boost capability. Maximum memory on the V100 is 8GB with a HDD storage capacity of 320GB.
The versatile V100 weighs a mere 2.3kg and features a swivelling LCD screen with automatic adjustment of both screen and keyboard backlight according to ambient brightness. In addition the screen comes with a multi-touch solution to allow for use under critical conditions without the need to remove gloves. The model is housed in a magnesium alloy case and is both military standard (MIL-STD-810G) certified and IP65 certified for durability and protection. It contains a 320GB removable vibration and drop resistant HDD, with the option to include an SSD for increased data access speed and greater battery life.
The unit provides comprehensive connectivity options including Bluetooth, WLAN and WWAN. The wireless networking capabilities include draft 802.11n and advanced TPM 1.2 security comes as standard to safeguard important data. A full-sized 83-key, waterproof membrane keyboard and an integrated 2 megapixel, water resistant, reversible webcam or in-built GPS receiver also make it ideal for use out in the field.
The V100 comes with a five-year warranty and has two USB ports, an option for smart-card reader or Express Card for special applications and requirements, PCMCIA Type II and SD Card slots, both Fingerprint and vPro Security, and external VGA and eSATA I/O Port.
"The V100 has always been a popular all-in-one solution for mobile-based applications with its flexibility of connectivity and because of its advanced features and super bright 1200 NITS sunlight readable screen," said Molyneux.
"With BS1789 certification, we are able to demonstrate how absolutely safe this is to use by the emergency services and can therefore help to bring the speed and processing power paramedics need wherever they find themselves."
Further details on the V100 and the complete range of rugged mobile solutions can be found at www.getac.com.