Bij Getac produceren we toonaangevende robuuste oplossingen van begin tot eind, voor de meest extreme omgevingen ter wereld. We werken met onze partners om u volledig geïntegreerde eco-oplossingen te bieden voor gespecialiseerde toepassingen in uw sector.
Details Belangrijkste Verkoopargument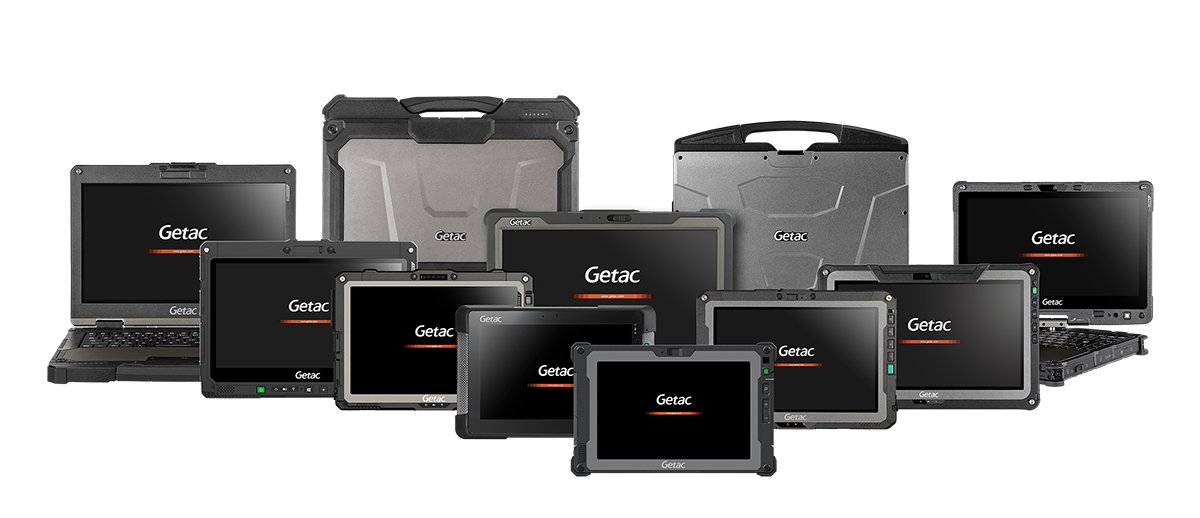 Meer dan 30 jaar aan robuuste innovatie
Ervaren en toegewijde robuuste experts staan klaar voor uw end-to-end ondersteuning voor de fases scoping, planning, ontwikkeling, inzet en onderhoud zodat u gegarandeerd duurzame mobiliteit bereikt.
Wereldwijde ondersteuning in 150+ landen + toonaangevende garantie
Met onze wereldwijde vestigingen, meer dan 1600 distributie-, reseller- en technische supportpartners over de hele wereld houden we kosten laag en efficiëntie hoog. Daarnaast biedt onze toonaangevende 3-5 jaar garantie een zorgeloze garantie, snelle reparatie en terugzending door interne Getac-experts.
Op uw sector afgestemde oplossingen en service
Door nauw samen te werken met klanten en ecosysteempartners kunnen we voldoen aan de eisen van de sector en unieke gebruikersscenario's. De innovatieve robuuste apparaten, accessoires, software en professionele service van Getac Select®-oplossingen verlagen de TCO en lossen per sector de zakelijke uitdagingen van onze klanten op.
Robuuste certificaten
We gebruiken internationaal erkende, onafhankelijke onderzoeks-, bouwkundige en evaluatielaboratoria om te verzekeren dat onze producten voldoen aan of beter zijn dan de MIL-STD-810H, MIL-STD-461G en IP-classificaties.
LumiBond® 2.0 en Leesbaar in zonlicht-technologie
Onze revolutionaire LumiBond®2.0-technologie verbindt het displayglas met het touchpaneel en lcd, verhoogt de touch-functionaliteit en biedt een beter leesbaar display, voor binnen en buiten. Plus, de QuadraClear®-oplossing van Getac biedt een energie-efficiënte, duurzame led-display zonder kwik met altijd dezelfde helderheid.
5G-ready connectiviteit
With 5G compatible and built-in Wi-Fi 6 with 4G LTE, Bluetooth 5.1 and dedicated GPS*, you can complete your entire mission
without delays or downtime.
Getac design allows you to remain connected entirely at incredible speeds.
Veiligheid en bescherming
Getac maakt gebruik van de beste privacy- en beveiligingsmaatregelen om uw data te beveiligen en beschermen met high-level beveiliging zoals biometrische identificatie, opdracht-gesynchroniseerd met volledige toegang en volledige controle voor beveiliging van missiekritische informatie op alle eindpunten.
*Eigenschappen inbegrepen op verzoek. Beschikbaarheid kan verschillen per model.
Maak kennis met onze oplossingen
Sector-specifieke robuuste oplossingen
Klik om meer te leren over Getac-apparaten die speciaal zijn ontworpen voor uw sector
LEES WAT ONZE KLANTEN VERTELLEN
In ons werk is connectiviteit essentieel. We moeten de tablet verbinden met het voertuig, de meter, de printer en de verkeersleider. Robuustheid is ook belangrijk, want uitval betekent vertraging. De tablets van Getac maken ons werk ongeveer 60% efficiënter.

Transportbedrijven vandaag de dag hebben een efficiënt en zeer georganiseerd platform nodig voor havenlogistiek. Dankzij innovatieve leveranciers als Getac kunnen wij een steeds efficientere service verlenen aan onze klanten. Dankzij onze partner in technologie, Sanval uit Genua, die ons altijd heeft bijgestaan in dit innovatieproces, hebben we vastgesteld dat de volledig robuuste F110 en T800 van Getac de meest geschikte producten zijn om onze technologieën te ondersteunen. Onze operators beheren hiermee alle stadia van het laden en lossen onafhankelijk, terwijl ze op schema blijven en zich houden aan alle correcte werkwijzes, zonder de angst op werkonderbrekingen door slechte weersomstandigheden en juist met hogere efficiëntie in hun dagelijkse werkzaamheden.

We zijn een kleine klant - elke drie jaar zo'n 30 eenheden. Wij weten dat we klein zijn en zij weten dat we klein zijn, maar ze behandelen zoals andere robuuste computerproducenten alleen grote inkopers behandelen, met 'verfrissings'-bestellingen in de duizenden in plaats van enkele tientallen.

Getac-producten voldoen aan onze verwachten wat betreft schermleesbaarheid en naleving van ATEX-regelgeving. Het scherm is erg aangenaam en Android biedt naast nieuwe functionaliteiten ook de snelheid om werkzaamheden uit te voeren. Dat is zeer merkbaar. Getac-oplossingen hebben ook een afwerking van hoge kwaliteit, met een robustheid die onfeilbaar lijkt.
Neem contact op met de experts van onze robuuste computerapparatuur