Getac B360 Pro
ROBUSTO, RESISTENTE E PRONTO PER L'AZIONE.
Pronto per le missioni, il notebook fully rugged B360 Pro è caratterizzato da potenza e performance su cui poter contare.
ROBUSTO, RESISTENTE E PRONTO PER L'AZIONE.
Progettato per il settore della difesa, il notebook fully rugged B360 Pro è stato appositamente pensato per l'utilizzo negli esigenti ambiti tattici. Un portatile potente, che garantisce tempi di risposta rapidissimi, grazie al processore Intel® Core ™ di 10° generazione e scheda grafica Intel® UHD. In questo contesto operativo può risultare fisicamente impegnativo il trasporto dell'equipaggiamento. Leggero, portatile e certificato MIL, il B360 Pro è rugged, per supportare le missioni critiche.
ROBUSTO AFFIDABILE E PRONTO ALL'USO
Progettato per operare durante le attività militari sul campo, il B360 Pro resiste a pioggia, polvere, urti, vibrazioni e dispone di certificazione opzionale per la nebbia salina. Questo notebook fully rugged è certificato MIL-STD-810H, MIL-STD-461G e IP66 per resistere a temperature da -29 ° C a + 63 ° C e alle cadute fino a 1,8 m anche durante il funzionamento. Il B360 Pro soddisfa gli standard ANSI / ISA 12.12.01 per zone pericolose Class I Division 2, permettendo totale tranquillità a coloro che operano in ambienti ostili. Robusto e pronto all'uso, il B360 Pro è stato progettato per affrontare gli scenari più duri.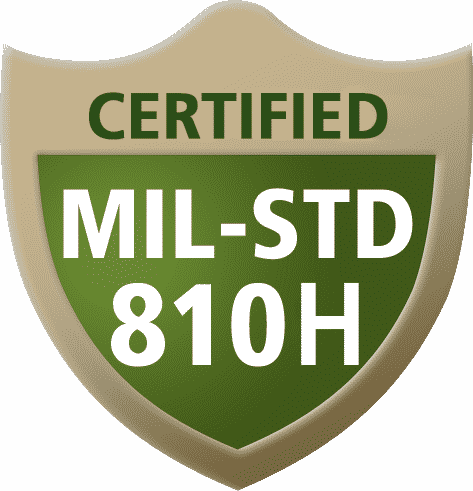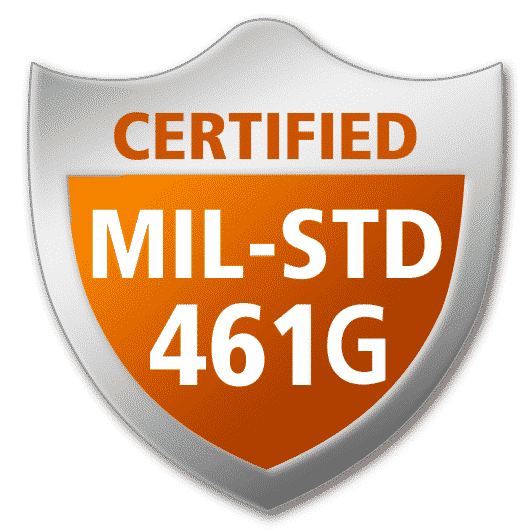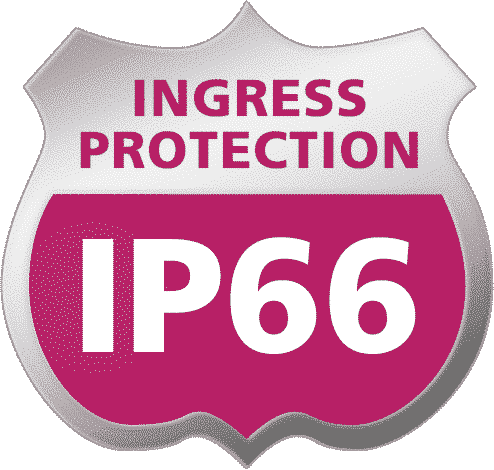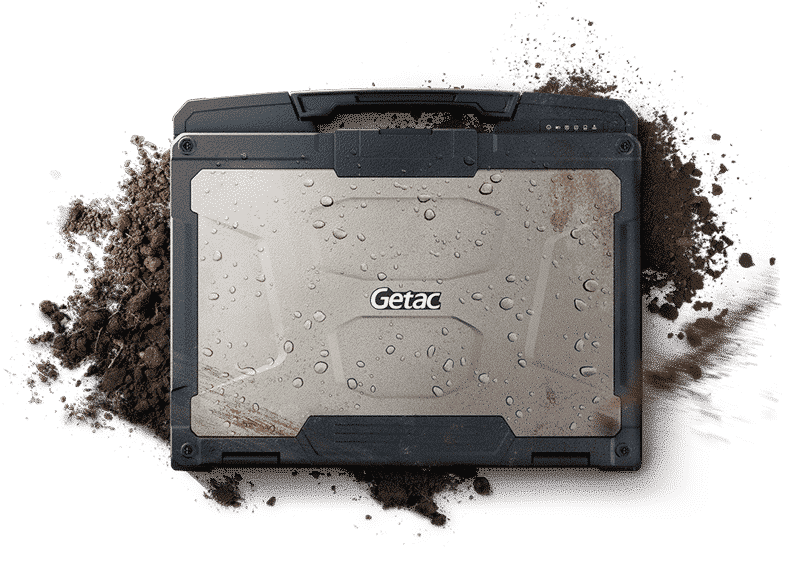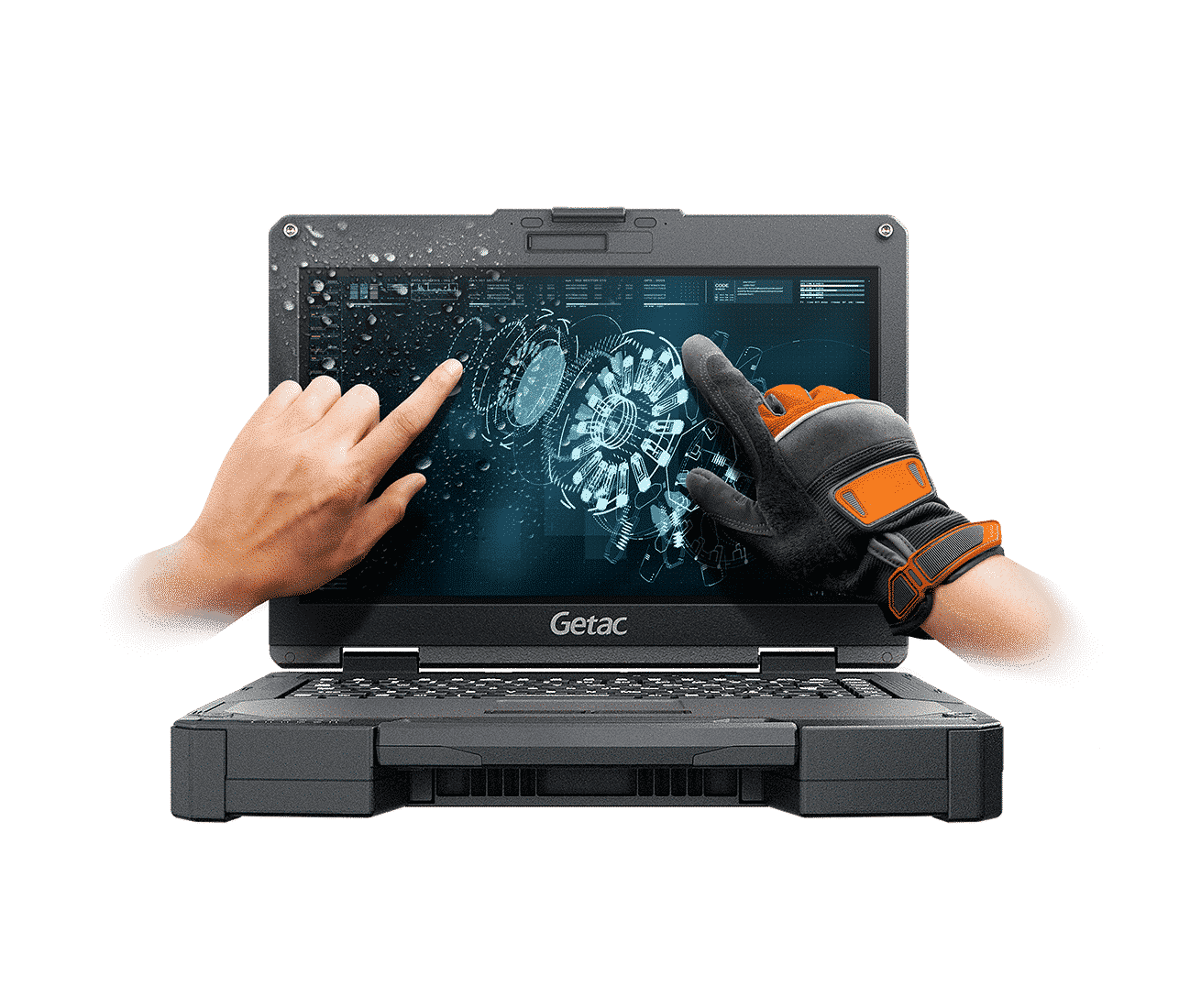 REATTIVO E RESISTENTE
In un contesto operativo imprevedibile, occorre un portatile che funzioni dove e quando si renda necessario. Il touchscreen del B360 Pro è altamente responsive a diversi range touch e a diversi livelli di luce in outodoor. Completo di tecnologia LumiBond® 2.0, il display touchscreen capacitivo può essere utilizzato con dita, penna, stylus o guanto. Il display LCD FHD offre una leggibilità molto nitida e luminosa, ad alta efficienza energetica ottimizzando la luminosità dello schermo alla luce diretta del sole. La soluzione sunlight readable spinge la luminosità fino a 1400 nits, permettendo al B360 Pro di avere lo schermo multitouch più luminoso sul mercato.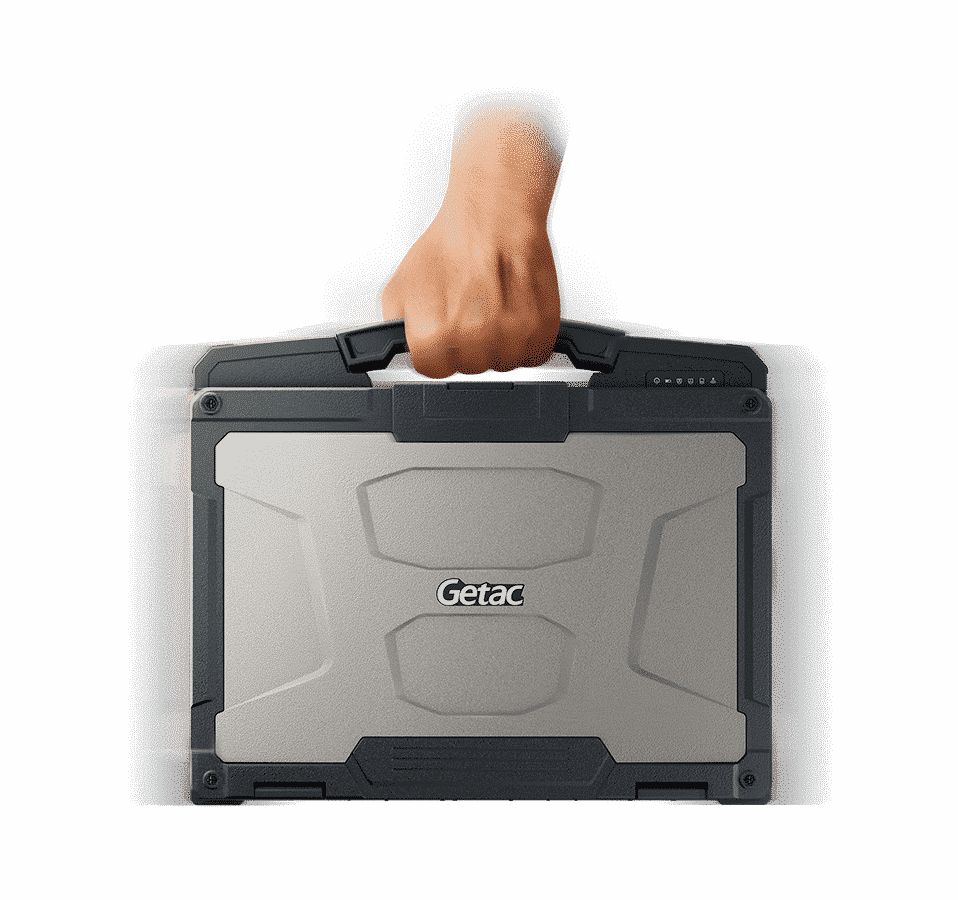 UN PARTNER PORTATILE
Per team che operano in ambiti altamenti demanding, un equipaggiamento ingombrante può provocare stress eccessivo e ridurre la consapevolezza della situazione. Getac B360 Pro è un computer portatile, che lavorerà a supporto del team. Questo notebook solido e fully rugged pesa solo 3,08 kg e può transitare in modo semplice dal veicolo direttamente all'operatività sul campo. Le sue dimensioni compatte consentono di risparmiare spazio quando è montato su un veicolo o riposto in un alloggiamento. Le soluzioni per veicoli comprendono angoli arrotondati per la sicurezza, portabilità negli ambienti critici e facile connessione attraverso le porte I/O della docking station.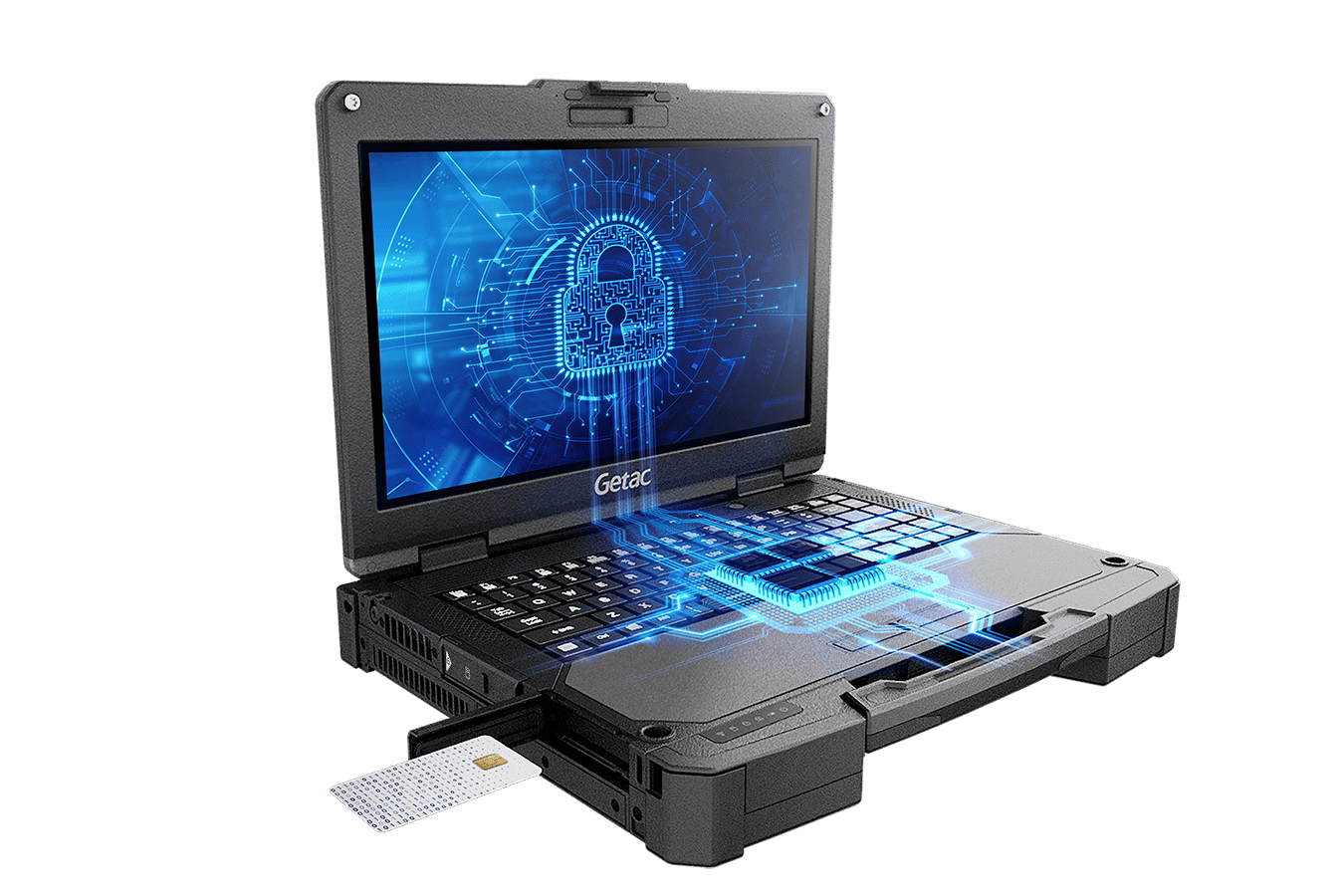 SICURO, PROTETTO E CONSAPEVOLE DELLA SITUAZIONE
I dati altamente sensibili richiedono un elevato livello di sicurezza. Il B360 Pro incorpora le migliori misure di privacy e sicurezza per garantire che i dati siano al sicuro e protetti. Puoi accedere al B360 Pro, in modo rapido e sicuro, attraverso uno o autenticazioni multi-factor, tra cui lettore RFID HF, lettore di smart card e il riconoscimento facciale tramite Windows Hello. L'opzione Absolute Data & Device Security (DDS) protegge i dati mission-critical. Il comando è sincronizzato con accesso completo e controllo assoluto dei dati. La sicurezza futura che previene le minacce di oggi.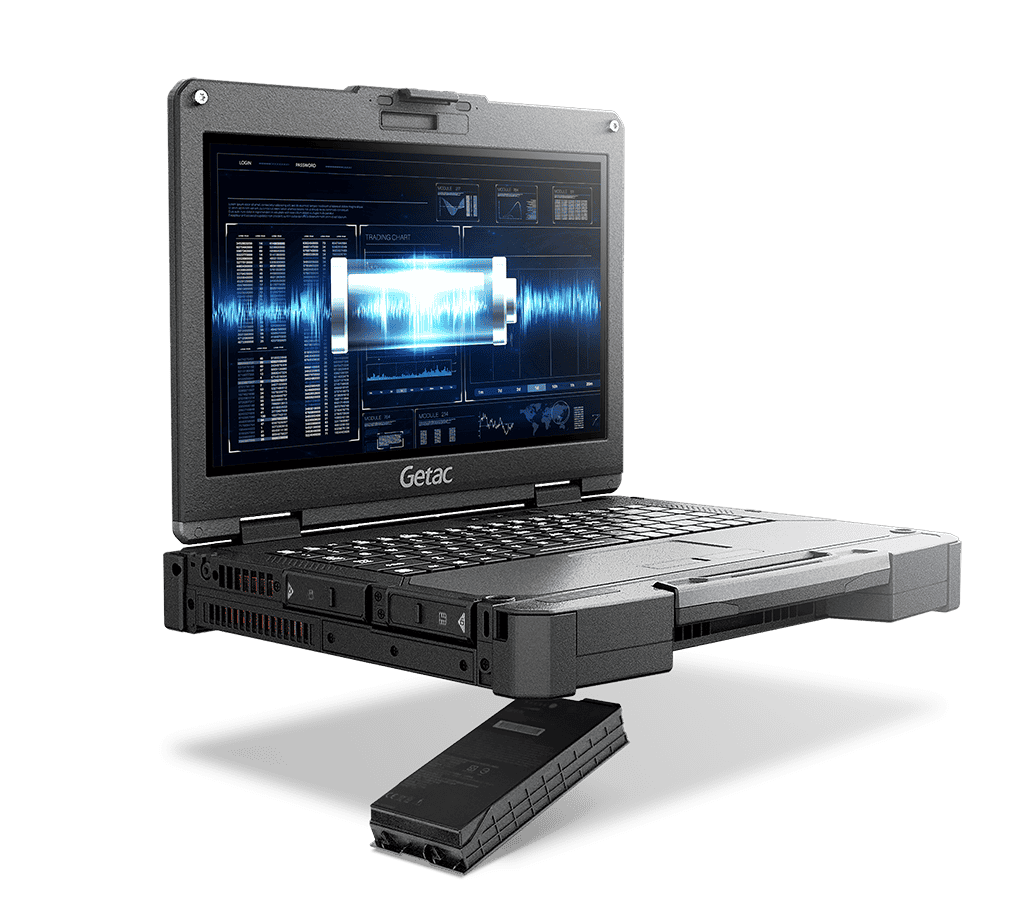 VERSATILE E ADATTABILE
Versatilità I / O che include due porte seriali, lettore di smart card,uscita cuffie / ingresso microfono combo, ed opzioni come lettore di codici a barre 1D/2D e porta USB 3.1 Gen 2 Type C . Sarà possibile mettere in collegamento sul campo, con facilità, i vari strumenti diagnostici per test e tracciamento/ sincronizzazione dei dati. Un ulteriore USB PowerShare consente di caricare altri dispositivi anche quando il device è in modalità off. La doppia batteria con tecnologia hot swap, consente la sostituzione rapida senza spegnere l'unità. Il B360 Pro è versatile e progettato per adattarsi a qualsiasi situazione.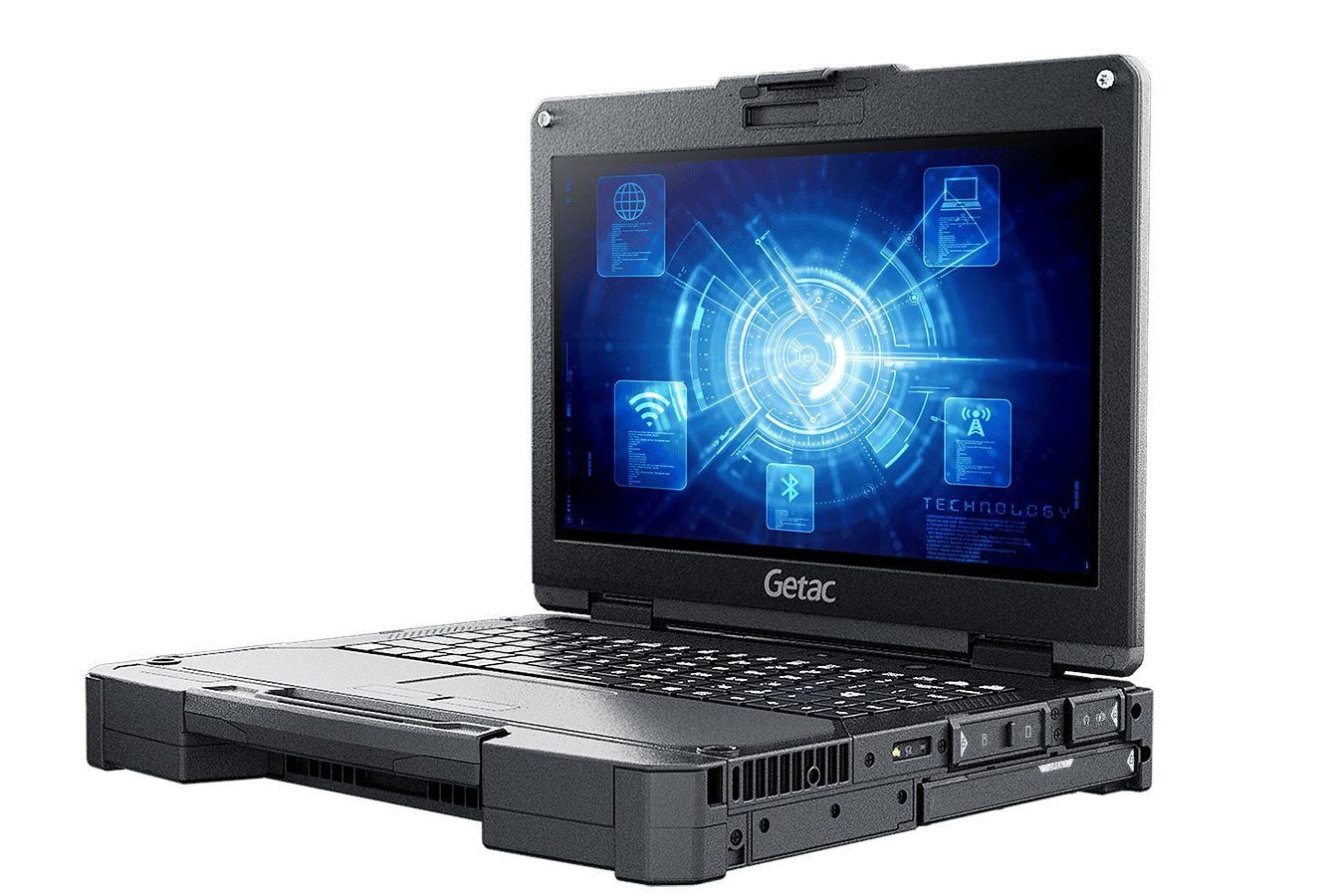 CONNETTIVITA' COMPLETA
Completa l'intera missione senza ritardi o tempi di inattività. Il B360 Pro di Getac è dotato di Bluetooth 5.1 e Intel® Wi-Fi 6 AX200 e opzioni 4G LTE e integrated GPS. Ciò significa streaming senza interruzioni, meno connessioni interrotte e connettività mobile molto veloce anche in aree urbane densamente popolate e località remote. E' possibile rimanere sempre connessi alla rete tramite GIS, in tempo reale, per una comunicazione chiara e coerente. L'opzione dedicated GPS a risparmio energetico garantisce un superiore ed accurato rilevamento della posizione. Se CONOPS richiede piena connettività, il B360 Pro è la giusta soluzione.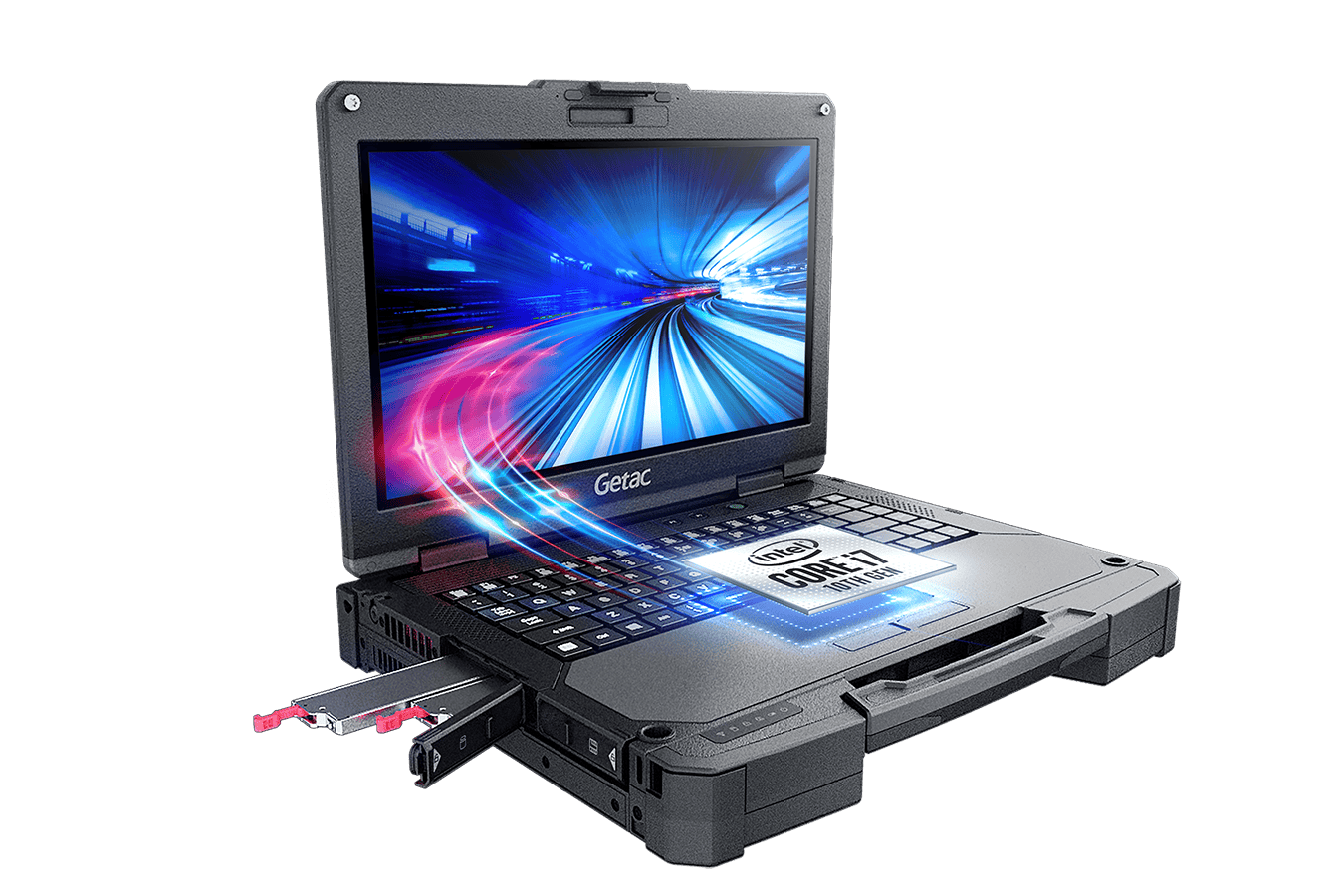 PROGETTATO PER ALTE PERFORMANCE
Team esigenti richiedono un sistema operativo affidabile. Predisposto con processore Intel® Quad-core di 10° generazione con opzione scalabile fino a 6 core, il B360 Pro offre straordinarie prestazioni della CPU e capacità di risposta in tempo reale. Spostamenti veloci e facili tra un'applicazione e l'altra, grazie ad una larghezza di banda potenziata e una maggiore velocità di trasmissione. La scheda grafica opzionale Nvidia GTX 1050 consente la visualizzazione rapida di mappe e video attraverso l'unità grafica UHD. E' possibile raccogliere, analizzare e trasformare rapidamente le informazioni in azioni. Per espandere le capacità, è possibile utilizzare le opzioni Express Card o PCMCIA.
Doppio storage sostituibile dall'utente: SSD PCIe e SSD SATA consentono una facile rimozione degli hard-drivei, sapendo che i dati sono al sicuro presso il comando. Rete inattiva? Nessun problema: DVD o Blu-Ray opzionali, permettono ulteriore trasmissione dei dati, installazione e backup. Windows 10 Pro e una doppia batteria ad alta capacità consentono di eseguire più attività contemporaneamente senza rallentamenti. La posta in gioco è alta e il B360 Pro é pronto per la sfida.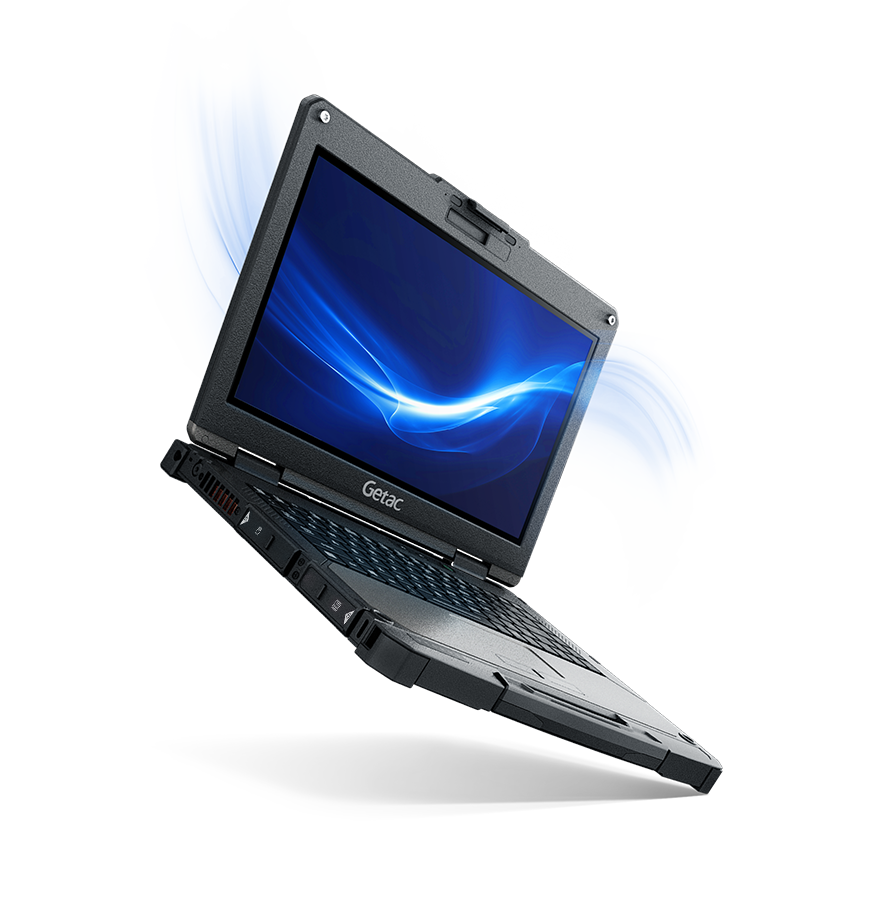 B360
I settori Utility, Produzione e Pubblica Sicurezza troveranno la stessa potenza di elaborazione anche nel B360. Questo notebook fully rugged è leggero, portatile ed è dotato delle più recenti certificazioni per dispositivi rugged.
FUNZIONALITA' DEL GETAC B360 PRO
SETTORI CHE UTILIZZANO B360 PRO
OLTRE OGNI ASPETTATIVA
Le nostre Garanzie totali Bumper-to-Bumper per dispositivi fully rugged superano ogni aspettativa in materia di protezione della tua produttività.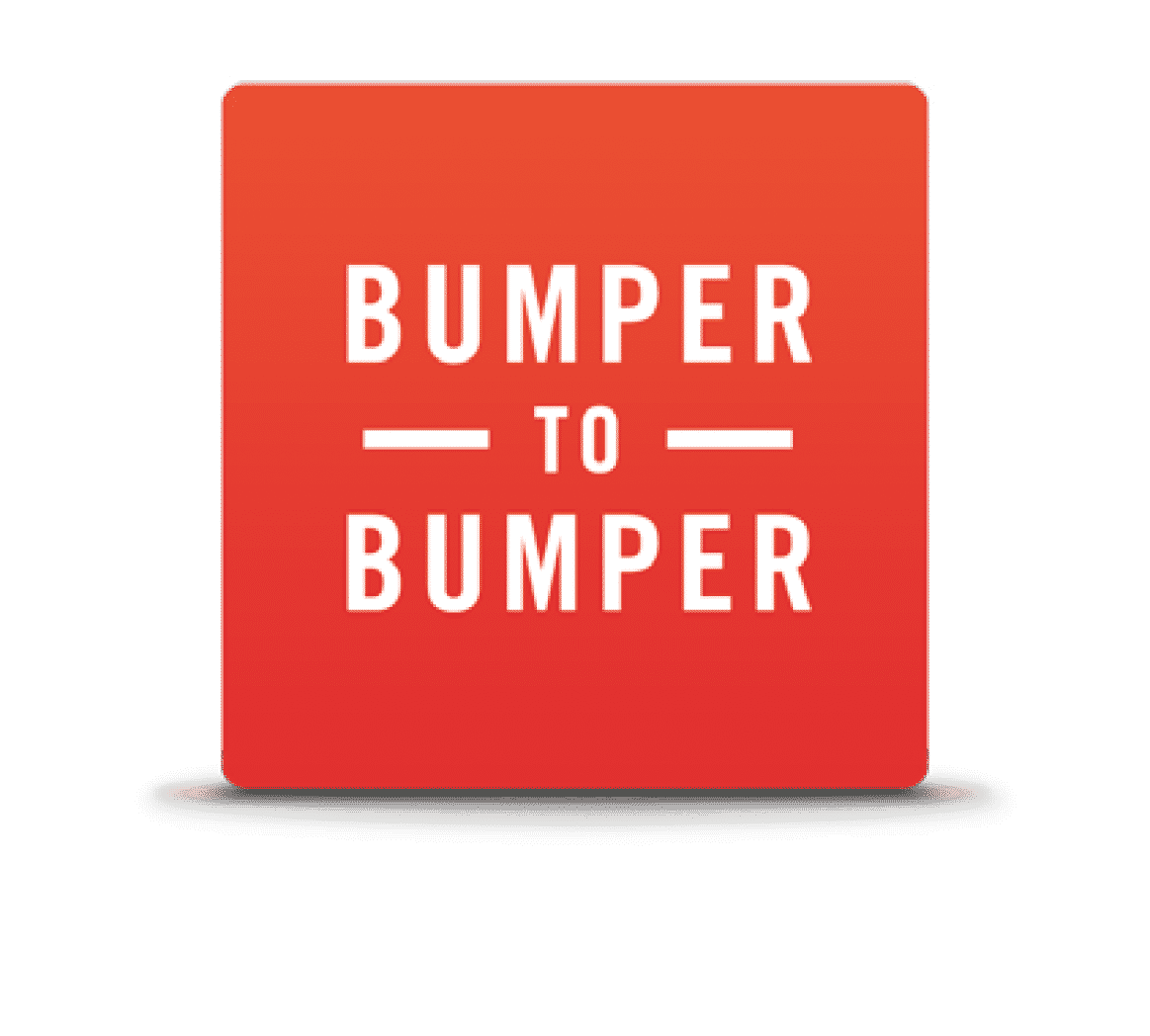 Garanzia di 3 anni leader di settore
Gli imprevisti possono compromettere l'utilizzo dei dispositivi e causare tempi di inattività. Ecco perché Getac ha introdotto la copertura dei danni accidentali come elemento standard della Garanzia totale Bumper-to-Bumper, consentendo una migliore gestione dei costi legati all'IT. a Garanzia totale è una formula agevole che offre il servizio di logistica Pack & Collect e garantisce un servizio di assistenza e riparazione rapido, effettuato da personale qualificato di Getac e di una riconsegna altrettanto veloce In questo modo il dispositivo sarà nuovamente operativo nel giro di pochi giorni.
Garanzia standard. 3 anni Bumper-to-Bumper.
Per i dettagli della garanzia, vedi Termini e Condizioni.
B360 Pro Technical Specifications
Generation

G1

Operating System

Windows 10 Pro xviii
Windows 11 Pro

Mobile Computing Platform

Intel® Core™ i5-10210U Processor 1.6GHz
Max. 4.2GHz with Intel® Turbo Boost Technology
- 6MB Intel® Smart Cache



Platform options:
Intel® Core™ i5-10310U vPro™ Processor 1.7GHz
Max. 4.4GHz with Intel® Turbo Boost Technology
- 6MB Intel® Smart Cache



Intel® Core™ i7-10510U Processor 1.8GHz
Max. 4.9GHz with Intel® Turbo Boost Technology
- 8MB Intel® Smart Cache



Intel® Core™ i7-10610U vPro™ Processor 1.8GHz
Max. 4.9GHz with Intel® Turbo Boost Technology
- 8MB Intel® Smart Cache



Intel® Core™ i7-10710U Processor 1.1GHz
Max. 4.7GHz with Intel® Turbo Boost Technology
12MB Intel® Smart Cache

VGA Controller

Intel® UHD Graphics
Optional: NVIDIA® GeForce® GTX1050 4GB discrete graphics controller i,viii

Display

13.3" IPS TFT LCD FHD (1920 x 1080)
Protection film
1,400 nits LumiBond® display with Getac sunlight readable technology

Storage & Memory

8GB DDR4
Optional: 16GB / 32GB / 64GB DDR4

256GB PCIe NVMe SSD
Optional: 512GB / 1TB PCIe NVMe SSD

Optional 2nd Storage ii: 256GB / 512GB / 1TB SATA SSD

Keyboard

LED backlit membrane keyboard
Optional: LED backlit rubber keyboard

Pointing Device

Touchscreen
- Capacitive multi-touch screen
Touchpad
- Touchpad with two buttons

Expansion Slots

Smart card reader x 1
Optional: Discrete graphics controller, or PCMCIA Type II, or ExpressCard/54 i
Optional: 1D/2D imager barcode reader

Multimedia Bay

Optional: DVD super multi drive / Blu-Ray super multi drive iii

I/O Interface

FHD webcam x 1
Audio in/out combo x 1
DC in Jack x 1
PowerShare USB 2.0 x 1
USB 3.2 Gen 2 Type-A x 2
LAN (RJ45) x 1
HDMI 1.4 x 1
Docking connector x 1
Optional: SIM card slot x 1 (Mini-SIM, 2FF)
Optional: Windows Hello face-authentication camera (front-facing) x 1
Optional: RF antenna pass-through for GPS, WWAN and WLAN
Configurable I/O options iv :
1. Serial port (9-pin; D-sub) x 1 + External VGA (15-pin; D-sub) x 1
2. Serial port (9-pin; D-sub) x 1 + USB 3.2 Gen 2 Type-C x 1
3. Serial port (9-pin; D-sub) x 1 + Display port x 1
4. Serial port (9-pin; D-sub) x 2 + External VGA (15-pin; D-sub) x 1
5. Serial port (9-pin; D-sub) x 2 + USB 3.2 Gen 2 Type-C x 1
6. Serial port (9-pin; D-sub) x 2 + Display port x 1
7. Serial port (9-pin; D-sub) x 1 + External VGA (15-pin; D-sub) x 1 + 2nd LAN (RJ45) x 1
8. Serial port (9-pin; D-sub) x 1 + Display Port x 1 + 2nd LAN (RJ45) x 1
9. Serial port (9-pin; D-sub) x 2 + External VGA (15-pin; D-sub) x 1 + 2nd LAN (RJ45) x 1
10. Serial port (9-pin; D-sub) x 2 + Display Port x 1 + 2nd LAN (RJ45) x 1

Communication Interface

10 / 100 / 1000 base-T Ethernet
Intel® Wi-Fi 6 AX200, 802.11ax
Bluetooth (v5.2) v
Optional dedicated GPS vi
Optional: 4G LTE mobile broadband with integrated GPS vi,vii

Security Features

TPM 2.0
Kensington lock
Optional: Fingerprint reader xv
Optional: HF RFID reader viii, xv
Smart card reader

Power

AC adapter (90W, 100-240VAC, 50/60Hz)
AC adapter (120W, 100-240VAC, 50/60Hz) ix
High capacity Li-ion battery (10.8V, typical 6900mAh; min. 6600mAh) x 2
LifeSupport™ battery swappable technology

Dimension (W x D x H) & Weigh

342 x 281 x 53.5mm (13.46" x 11.06" x 2.11")
3.08Kg ( 6.79lbs) x

Rugged Feature

MIL-STD-810H certified
IP66 certified
MIL-STD-461G certified xi
Vibration & 6ft (1.8m) drop resistant
Optional: ANSI/UL 121201, CSA C22.2 NO. 213 (Class I, Division 2, Groups A, B, C, D) xvii
Optional: Salt fog certified

Environmental Specification

Temperature xii :
- Operating: -29°C to 63°C / -20°F to 145°F
- Storage: -51°C to 71°C / -60°F to 160°F
Humidity:
- 95% RH, non-condensing

Pre-installed software

Getac Utility
Getac Geolocation
Getac Barcode Manager xiii
Optional: Absolute Persistence®

Optional software

Getac Driving Safety Utility
Getac Device Monitoring System (GDMS)
Getac VGPS Utility xvi

Accessories

High capacity Li-ion battery (10.8V, typical 6900mAh; min. 6600mAh)
AC adapter (90W, 100-240VAC)
Capacitive stylus with tether

Optional:
Carry bag
High Capacity Li-ion Battery (10.8V, typical 6900mAh; min. 6600mAh)
Multi-Bay charger (Dual-Bay)
Multi-Bay charger (Eight-Bay)
AC adapter (90W, 100-240VAC)
AC adapter ix (120W, 100-240VAC)
MIL-STD-461 AC adapter (90W, 100-240VAC)
DC-DC vehicle adapter (120W, 11-32VDC)
Capacitive stylus with tether
Protection film
Vehicle cradle
Vehicle dock
Office dock
Spare SSD kit
100W Type-C adapter xiv

Bumper-to-Bumper warranty

Accidents can take your equipment out of service when you least expect it, especially in a rugged environment, which can cause costly equipment downtime.
That is why Getac has introduced accidental damage as standard under our Bumper-to-Bumper warranty, to help minimize your enterprise IT costs.
Bumper-to-Bumper is your hassle-free guarantee. That means you can depend on us to have your unit back in service within days.

Standard
3 years Bumper-to-Bumper
Discrete graphics card, PCMCIA slot, and Expresscard slot are mutually exclusive.
Second storage is optional and will be fitted with a removable cover when not chosen at point of purchase.
DVD super multi drive and Blu-Ray super multi drive are mutually exclusive.
External VGA, USB 3.2 Gen 2 Type-C port and Display port are mutually exclusive.
Bluetooth performance and connectable distance may be subject to interference with the environments and performance on client devices, users may be able to reduce effects of interference by minimizing the number of active Bluetooth wireless devices that is operating in the area.
Dedicated GPS is mutually exclusive with 4G LTE mobile broadband.
Units with 4G LTE option comes with an embedded SIM card slot.
HF(13.56MHz) combo HF RFID/NFC reader (iClass, HID Prox , ISO 15693, 14443 A/B, Mifare, and FeliCa™ compliant).
120W AC adapter is used for office dock and for device configured with discrete graphics card.
Weight and dimensions vary from configurations and optional accessories.
MIL-STD-461 90W AC adapter sold separately.
Tested by an independent third-party test lab following MIL-STD-810H.
Available when barcode reader option is selected.
Do not support the configurations with discrete graphics card.
Fingerprint reader and HF RFID reader are mutually exclusive.
Models require either embedded or standalone GPS module.
Available with limited configurations and environment conditions.
From 14th October 2025, Windows 10 Pro is going to End of Service. Windows 10 Pro will not be upgradable to Windows 11 Pro and will no longer be eligible to receive Microsoft security updates.
Information provided herewith is for reference only, available specification shall be subjected to quotation by request.
Need a quote? Let's talk!