Getac X600
La tua workstation portatile ultra resistente
Grazie ad un ampio schermo da 15,6" e un'elaborazione all'avanguardia in uno chassis fully rugged, il notebook X600 offre potenza e produttività ovunque tu vada.
Performance all'avanguardia
X600 è dotato di processore Intel i5/i7/i9 (fino a 8 core) di 11° generazione, discrete graphics controller NVIDIA® Quadro® RTX3000 opzionale e fino a 128GB DDR4 RAM disponibile. Il suo design a doppia ventola mantiene ciascuno di questi componenti di calcolo alla giusta temperatura ed operativi anche durante le attività più intense, mentre l'archiviazione dei dati può essere espansa fino a 6TB con tre unità a stato solido (SSD) PCIe rimovibili dall'utente.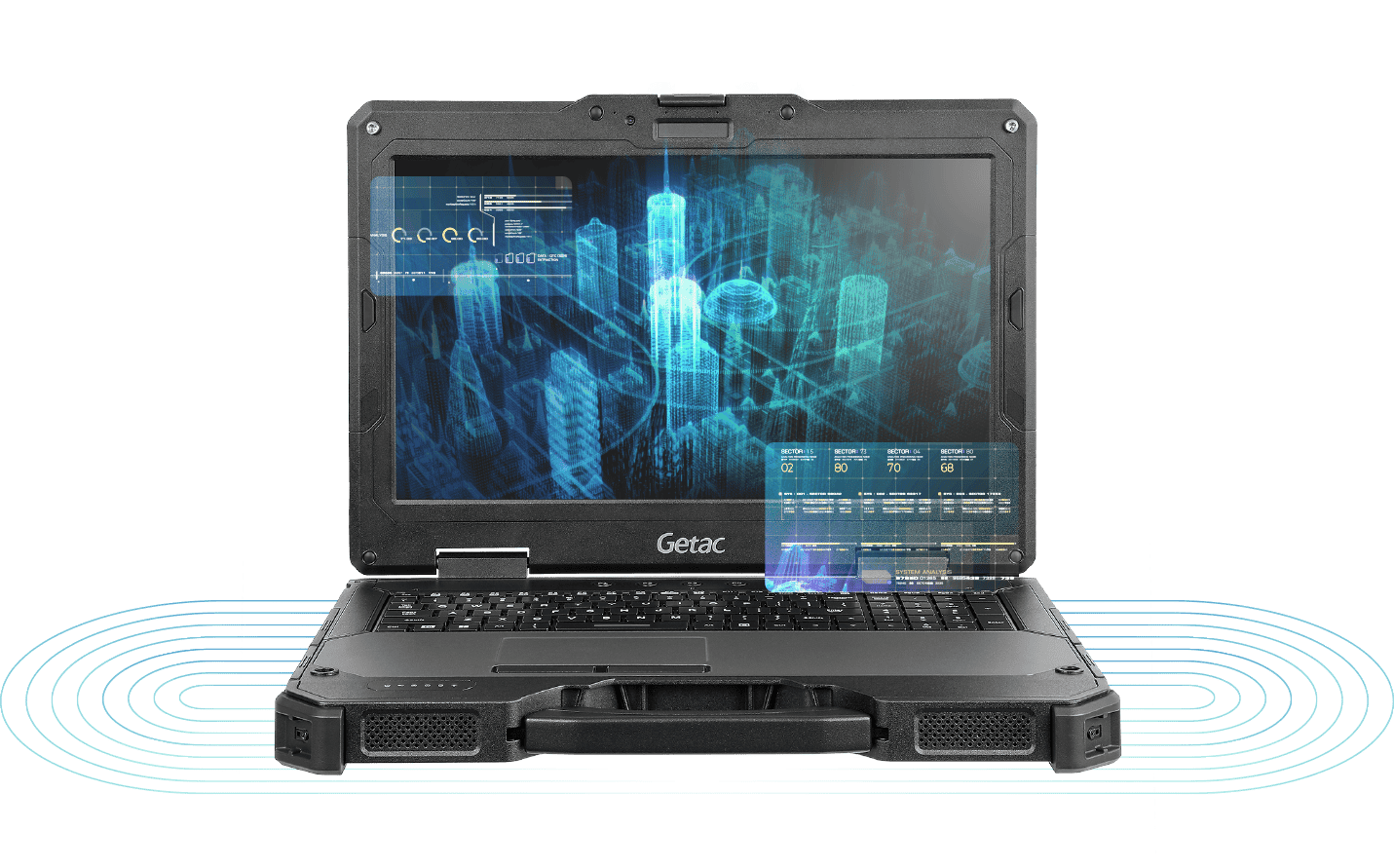 Eccellente user experience
Il sistema operativo Windows 11 Pro di X600 consente un'esperienza utente Microsoft intuitiva e familiare, ma con una migliore funzionalità di lavoro ibrido/remoto e una gestione semplificata di attività multiple. Con un'ampio schermo LumiBond® da 15,6" che offre colori e contrasto ottimali, leggibilità alla luce del sole (1.000 nits) e multitouch capacitivo opzionale, utilizzabile anche al freddo, pioggia o con i guanti, il multitasking è più sempilice anche in un ambiente sfidante.
Connettività superiore
La connettività di X600 supera lo standard rugged. La doppia capacità Ethernet 2.5GBASE-T consente una connessione fissa e sicura a due reti simultanee, mentre la banda larga LAN wireless, abilitata tramite il nuovo standard Wi-Fi 6E, mette in gioco il blocco di frequenze a 6GHz, inutilizzato dalle precedenti generazioni di Wi-Fi. Thunderbolt™ 4 (Type-C) permette la trasmissione di dati fissi ad altissima velocità tra dispositivi, con Bluetooth 5.2 che permette la connettività con dispositivi a basso consumo, oltre alla disponibilità 4G-LTE con GPS integrato.
Maggiore sicurezza dei dati
X600 offre una suite diversificata di funzioni di sicurezza. L'autenticazione standard Windows multifactor è supportata da una fotocamera opzionale Windows Hello face-authentication, lettore di impronte digitali e lettore di smart card. Per la sicurezza dei dati, tutte le unità di archiviazione sono rimovibili dall'utente senza l'utilizzo di attrezzi, con il microprocessore dedicato Trusted Platform Module (TPM) 2.0 incluso, che consente capacità di crittografia completa dell'unità e una varietà di altri miglioramenti di autenticazione.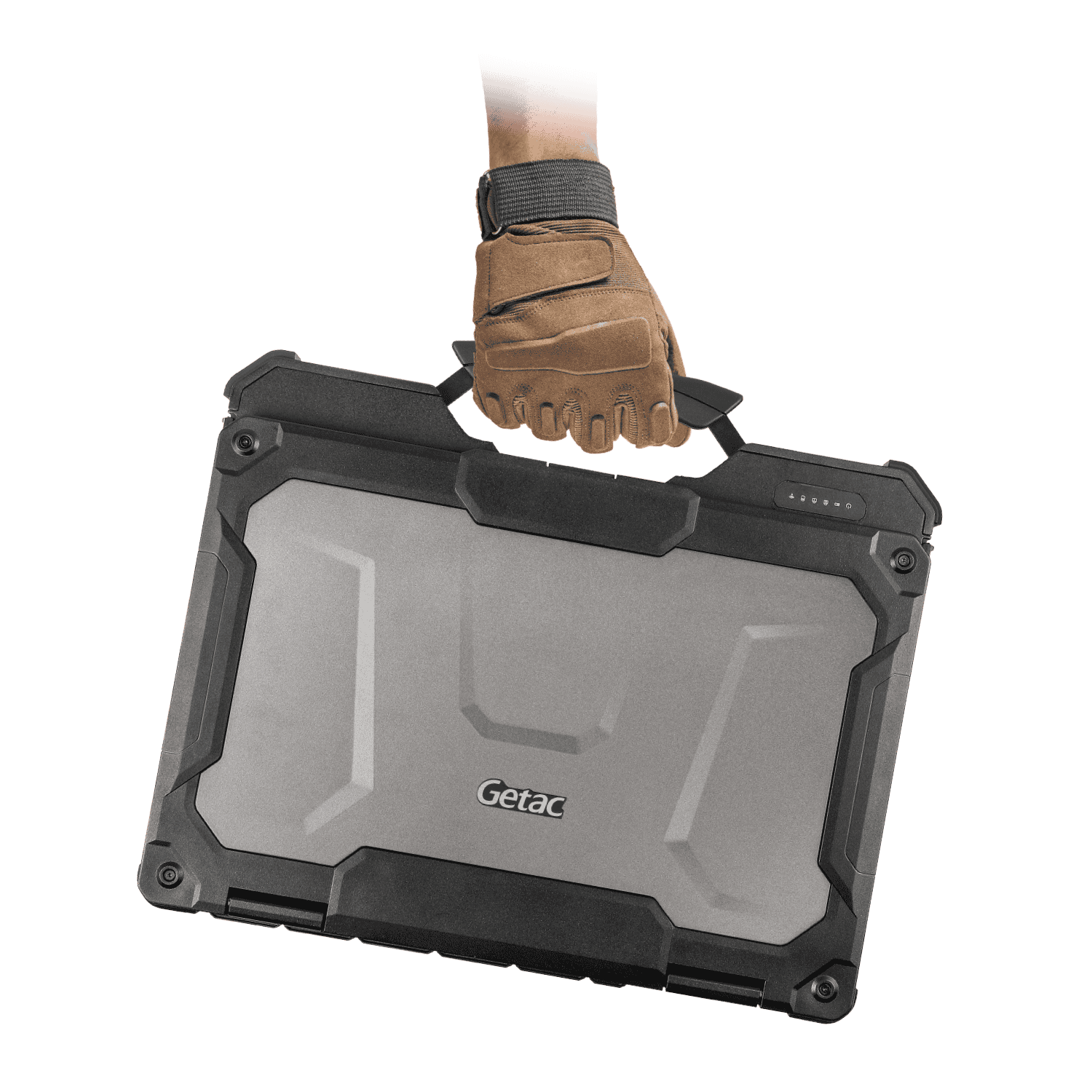 Costruito per la mobilità
Con meno di 5 cm di spessore, X600 è costruito per la mobilità, sia in un veicolo (montaggio personalizzato disponibile) che a piedi. E con le sue due batterie sostituibili a caldo, ognuna delle quali può essere sostituita senza interrompere il funzionamento del dispositivo, X600 può lavorare tutto il giorno senza bisogno di essere collegato all'alimentatore.
Rugged and Ready
Progettato per resistere e lavorare in condizioni estreme all'aperto, X600 funziona in caso di pioggia, polvere, urti, vibrazioni e può essere certificato per la nebbia salina, se richiesto. Questo notebook fully rugged è certificato MIL-STD-810H, MIL-STD-461G e IP66 per resistere a temperature da -29°C a 63°C (da -20°F a 145°F). X600 soddisfa gli standard ANSI/UL 12.12.01 (su richiesta) per le aree pericolose Classe 1 Divisione 2, dando fiducia a chi cerca la sicurezza intrinseca dei dispositivi in atmosfere esplosive.



FUNZIONALITA' DEL GETAC X600
OLTRE OGNI ASPETTATIVA.
Le nostre Garanzie totali Bumper-to-Bumper per dispositivi fully rugged superano ogni aspettativa in materia di protezione della tua produttività.

Gli imprevisti possono compromettere l'utilizzo dei dispositivi e causare tempi di inattività. Ecco perché Getac ha introdotto la copertura dei danni accidentali come elemento standard della Garanzia totale Bumper-to-Bumper, consentendo un'ottima gestione dei costi legati all'IT. La Garanzia totale è una formula agevole che offre un eccellente servizio di assistenza e riparazione rapido, effettuato da personale qualificato di Getac. In questo modo il dispositivo sarà nuovamente operativo nel giro di pochi giorni.
3 anni Garanzia totale Bumper-to-Bumper
Per i dettagli della garanzia, vedi Termini e Condizioni.
*Le immagini del prodotto sono puramente indicative. Il prodotto attuale potrebbe essere soggetto a variazioni migliorative
X600 TECHNICAL SPECIFICATIONS
Generation

G1

Operating System

Windows 11 Pro

Mobile Computing Platform

Intel® Core™ i5-11500H vPro™ Processor
Max. 4.6GHz with Intel® Turbo Boost Technology
- 12MB Intel® Smart Cache

Platform options:
Intel® Core™ i7-11850H vPro™ Processor
Max. 4.8GHz with Intel® Turbo Boost Technology
- 24MB Intel® Smart Cache

Intel® Core™ i9-11950H vPro™ Processor
Max. 4.9GHz with Intel® Turbo Boost Technology
- 24MB Intel® Smart Cache

VGA Controller

Intel® UHD Graphics
Optional: NVIDIA® Quadro® RTX3000 6GB
discrete graphics controller i, ii

Display

15.6" TFT LCD FHD (1920 x 1080)
Protection film
1,000 nits LumiBond® display with Getac sunlight readable technology
Optional: Capacitive multi-touch screen

Storage & Memory

16GB DDR4
Optional: 32GB / 64GB / 128GB DDR4

512GB PCIe SSD
Optional: 1TB / 2TB PCIe SSD
Optional 2nd storage: 512GB / 1TB / 2TB PCIe SSD
Optional 3rd storage: 512GB / 1TB / 2TB PCIe SSD

Keyboard

LED backlit membrane keyboard with integrated numeric keypad

Pointing Device

Touchscreen
- Optional: Capacitive multi-touch screen touchpad
- Touchpad with two buttons

Expansion Slot

Smart card reader
Optional: ExpressCard 54 or PCMCIA Type II iii
Optional: SD card reader

I/O Interface

FHD webcam x 1
Thunderbolt™ 4 Type-C x 1
USB 3.2 Gen 2 Type-A x 4
LAN (RJ-45) x 2
Audio in/out combo x 1
DC in Jack x 1
HDMI 2.0 x 1
Display port x 1
Docking connector x 1
Serial port (9-pin; D-sub) x 1
External VGA (15-pin; D-sub) x1 or 2nd serial port (9-pin; D-sub) x 1 iv
Optional: SIM card slot x 1 (Mini-SIM, 2FF) v
Optional: RF antenna pass-through for GPS, WWAN and WLAN

Communication

2.5GBASE-T Ethernet
Intel® Wi-Fi 6E AX210, 802.11ax
Bluetooth (v5.2) vi
Optional: Dedicated GPS vii
Optional: 4G LTE mobile broadband with integrated GPS v, vii

Security Feature

TPM 2.0
Kensington lock
Smart card reader
Intel® vPro™ Technology

Power

AC adapter (150W, 100-240VAC, 50/60Hz) ii
AC adapter (230W, 100-240VAC, 50/60Hz) i
Battery (10.8V, typical 6900mAh; min. 6600mAh) x 2

Dimension (W x D x H) & Weight

412 x 322 x 52.5mm (16.22" x 12.68" x 2.07") viii
4.41kg (9.72lbs) viii

Rugged Feature

MIL-STD-810H certified
IP66 certified
MIL-STD-461G certified ix
Vibration and 4ft (1.2m) drop resistant
Optional: ANSI/UL 121201, CSA C22.2 NO. 213 (Class I, Division 2, Groups A, B, C, D)
Optional: Salt fog resistant

Environmental Specification

Temperature x:
- Operating: -29˚C to 63°C / -20°F to 145°F
- Storage: -51°C to 71°C / -60°F to 160°F
Humidity:
- 95% RH, non-condensing

Pre-installed Software

Getac Utility
Getac Geolocation
Optional: Absolute Persistence®

Accessories

Battery (10.8V, typical 6900mAh; min. 6600mAh) x 2
AC adapter (150W, 100-240VAC, 50/60Hz) ii or AC adapter (230W, 100-240VAC, 50/60Hz) i
Capacitive stylus with tether

Optional:
Backpack
Battery (10.8V, typical 6900mAh; min. 6600mAh)
Multi-Bay charger (Dual-Bay)
AC adapter (150W, 100-240VAC, 50/60Hz) ii
AC adapter (230W, 100-240VAC, 50/60Hz) i
MIL-STD-461 AC adapter (230W, 100-240VAC) ix
DC-DC vehicle adapter (230W, 11-32VDC)
Capacitive stylus with tether
Protection film
Vehicle dock
Office dock ii
Spare SSD kit

Bumper-to-Bumper Warranty

Accidents can take your equipment out of service when you least expect it, especially in a rugged environment, which can cause costly equipment downtime. That is why Getac has introduced accidental damage as standard under the Bumper-to-Bumper warranty, to help minimise your enterprise IT costs. Bumper-to-Bumper is your hassle-free guarantee. That means you can depend on Getac to have your unit back in service within days.

Standard
3 years Bumper-to-Bumper
The configuration with a discrete graphic controller requires the 230W AC adapter.
150W AC adaptor is not applicable with discrete graphic controller nor office dock.
ExpressCard 54 and PCMCIA Type II card readers are mutually exclusive.
The 2nd serial port is optional and mutually exclusive with External VGA.
Units with 4G LTE option comes with an embedded SIM card slot.
Bluetooth performance and connectable distance may be subject to interference with the environments and performance on client devices, users may be able to reduce effects of interference by minimizing the number of active Bluetooth wireless devices that is operating in the area.
Dedicated GPS and 4G LTE are mutually exclusive options.
Weight and dimensions vary from configurations and optional accessories.
MIL-STD-461 230W AC adapter sold separately.
Tested by an independent third-party test lab following MIL-STD-810H.
Information provided herewith is for reference only, available specification shall be subjected to quotation by request.
Need a quote? Let's talk!