Getac ZX70-EX
TABLET FULLY RUGGED CON CERTIFICAZIONE ATEX E IECEX.
Il tablet fully rugged Getac ZX70-EX certificato ATEX e IECEx è semplice da impugnare con una sola mano, ed è la soluzione idea per migliorare la produttività in mobile.
TABLET FULLY RUGGED CON CERTIFICAZIONE ATEX E IECEX.
Compatto e potente, il tablet fully rugged Android ZX70-EX da 7" presenta dimensioni perfette. Con un design ergonomico, sottile e leggero, è facile da tenere e usare con una sola mano e per tutti questi motivi è la soluzione ideale per ottimizzare la produttività mobile. Lo ZX70-EX presenta una batteria che dura di più rispetto agli altri modelli progettati per operazioni in ambienti critici. Rinforzato a 360°, il design dello ZX70-EX è ottimizzato per una vasta gamma di funzionalità configurabili senza comprometterne la robustezza.
CERTIFICAZIONE ATEX E IECEX
Certificato per ambienti pericolosi, il tablet fully rugged ZX70-EX offre la certificazione ATEX e IECEx Zona 2/22 per l'uso in ambienti potenzialmente esplosivi.*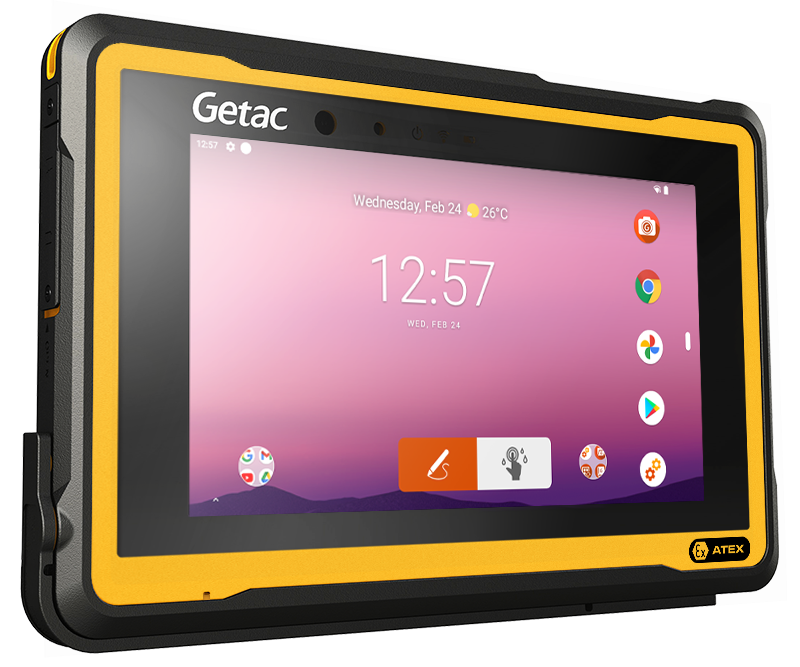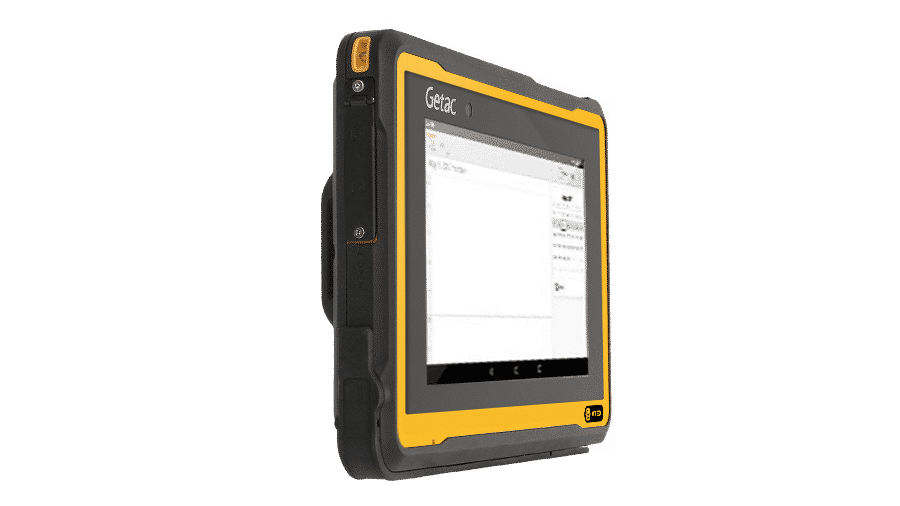 COMPATTO & MOBILE
Sorprendentemente sottile e leggero, lo ZX70-EX è abbastanza piccolo da poter essere tenuto facilmente in una mano e, allo stesso tempo, abbastanza grande per assicurare di portare a termine il lavoro. Il design ad arco della cassa ne facilita l'uso e l'impugnatura, mentre il tipo di ergonomicità garantisce un facile utilizzo da parte dei lavoratori: ne deriva una maggiore produttività e un veloce ritorno dell'investimento.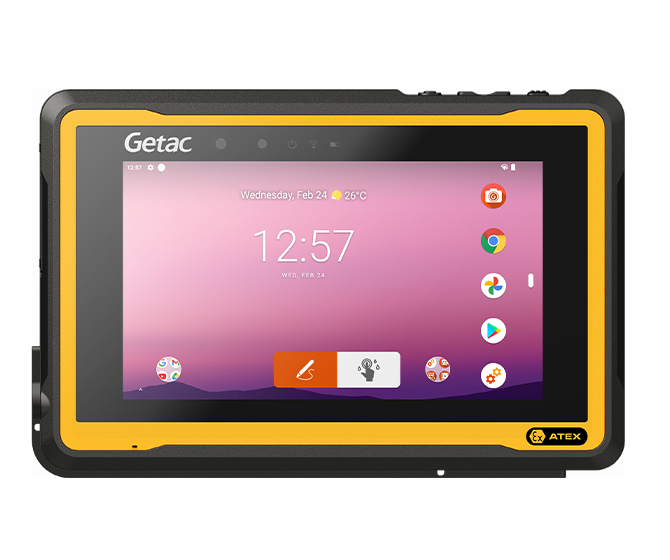 ANDROID 10.0 OS
Lo ZX70-EX presenta il sistema operativo Android 10.0. L'interfaccia intuitiva rende il tablet facile da usare e allo stesso tempo garantisce l'accesso a milioni di app presenti sul Google Play Store.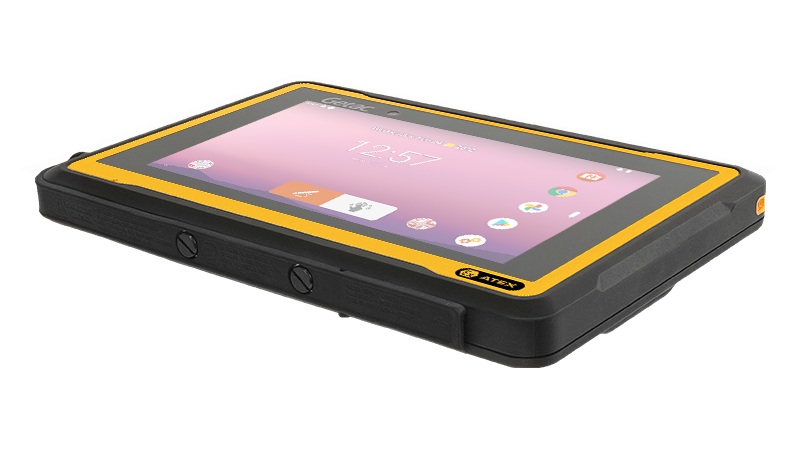 SCHERMO NITIDO, LEGGIBILE ALLA LUCE DEL SOLE
Lo ZX70-EX dispone di un display IPS da 7", leggibile alla luce del sole. Display con luminosità di 580 nit, che migliora la leggibilità anche negli ambienti di lavoro più difficili.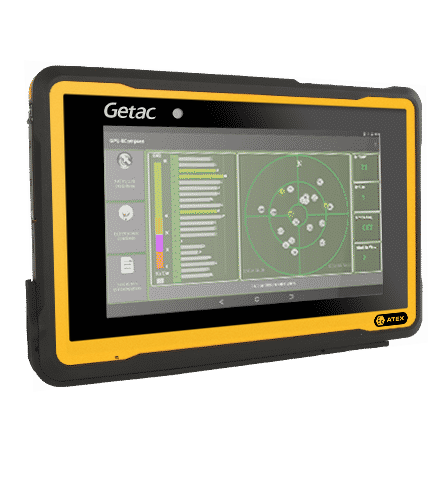 CONFIGURABILE E PROGETTATO SU MISURA
Lo ZX70-EX è progettato per essere uno strumento creato su misura con una serie di opzioni configurabili per adattarsi al lavoro, tra cui un GPS dedicato + connessione mobile 4G LTE, WiFi+BT, lettore di codici a barre 1D/2D e lettore NFC/RFID.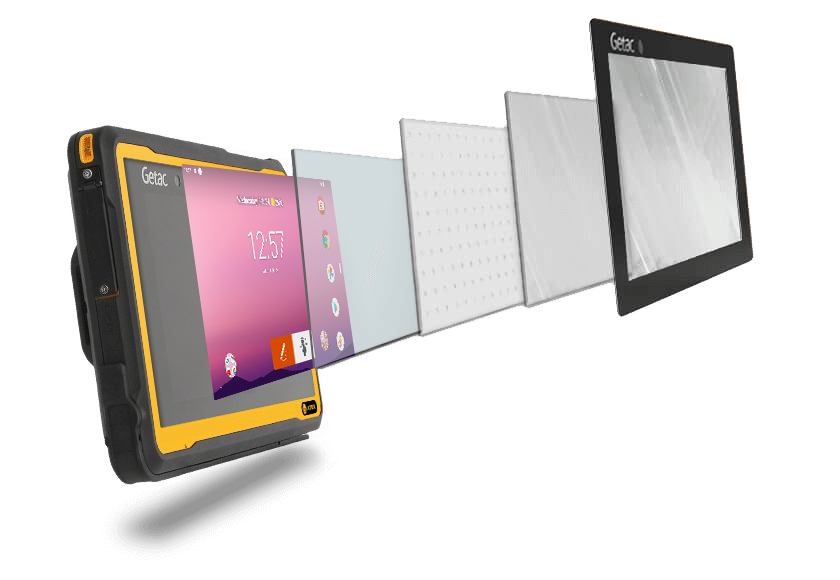 LUMIBOND® 2.0: MIGLIORE, PIU' LUMINOSO, PIU' FORTE
La nostra rivoluzionaria tecnologia touch LumiBond 2.0, che risponde a ogni tocco in modo immediato, unisce il vetro del display, il pannello touch ed il display LCD per creare un pannello unico, che dura più a lungo e offre maggiore leggibilità e miglior contrasto, per colori più vividi di qualsiasi altro display rugged. Due funzioni touch avanzate (modalità Touch, Guanto o Penna) e la penna con punta dura inclusa permettono di acquisire firme e inserire annotazioni più precise su disegni, cartine o moduli.
Built to Survive
Solo Getac produce tablet rugged a partire dallo chassis. Lo ZX70-EX è stato progettato per resistere a cadute, urti, pioggia, vibrazioni, polvere, liquidi e altro ancora. Lo ZX70-EX è certificato IP67 e può essere sommerso fino a 30 minuti da 1 metro d'acqua. È inoltre certificato MIL-STD 810H per resistere a una caduta di quasi 2 metri.
Temperature estreme: essere in grado di lavorare in qualsiasi ambiente è fondamentale, anche in condizioni di freddo estremo. Il tablet rugged ZX70-EX resiste a temperature che vanno dai -21°C ai 60°C.


FUNZIONALITA' DEL GETAC ZX70-EX
SETTORI CHE UTILIZZANO GETAC ZX70-EX
OLTRE OGNI ASPETTATIVA.
Le nostre Garanzie totali per dispositivi fully rugged superano ogni aspettativa in materia di protezione della tua produttività.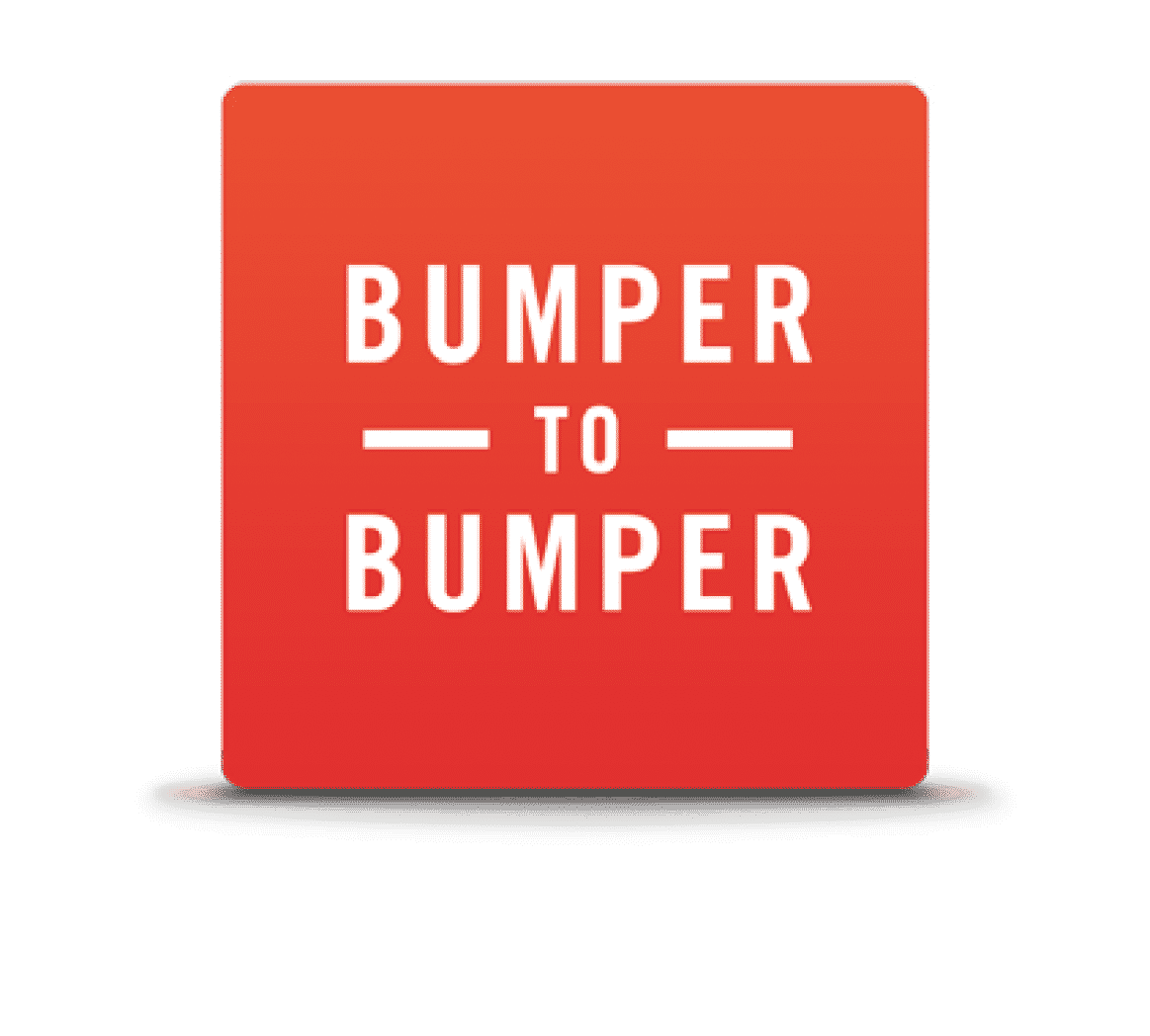 Garanzia di 3 anni leader di settore
Gli imprevisti possono compromettere l'utilizzo dei dispositivi e causare tempi di inattività. Ecco perché Getac ha introdotto la copertura dei danni accidentali come elemento standard della nuova Garanzia totale Bumper-to-Bumper, consentendo un'ottima gestione dei costi legati all'IT.
La Garanzia totale è una formula agevole che offre un eccellente servizio di logistica Pack & Collect e garantisce un servizio di assistenza e riparazione rapido, effettuato da personale qualificato di Getac e di una riconsegna altrettanto veloce.
3 anni Garanzia totale Bumper-to-Bumper.
*Il requisito di certificazione ATEX deve essere specificato al momento dell'acquisto
*Per maggiori informazioni riguardanti la copertura della garanzia, vedere Termini e Condizioni.
*Google, Android and Google Play are trademarks of Google LLC.
ZX70-EX TECHNICAL SPECIFICATIONS
Generation

G2

Operating System

Android™ 10.0

Mobile Computing Platform

Qualcomm® Snapdragon™ 660, Octa-core 1.95GHz
Max. 2.2GHz

VGA Controller

Qualcomm® Adreno™ 512 GPU

Display

7" IPS TFT LCD HD (1280 x 720)
Anti-static protection film
LumiBond® display with Getac sunlight readable technology
Capacitive multi-touch screen

Storage & Memory

4GB LPDDR4
64GB eMMC

Keyboard

Power button
3 tablet programmable buttons

Pointing Device

Touchscreen
- Capacitive multi-touch screen

Expansion Slot

Optional: 1D/2D imager barcode reader

I/O Interface

8M pixels webcam x 1
12M pixels auto focus rear camera x 1
DC in Jack x 1
USB 2.0 (Host) x 1
MicroUSB 2.0 (Client) x 1
MicroSD x 1
Optional: SIM card slot x 1 (Micro-SIM, 3FF)

Communication Interface

Wi-Fi 802.11ac
Bluetooth (v5.0) ii
Dedicated GPS
Optional 4G LTE mobile broadband iii

Security Features

Optional: HF RFID/NFC combo reader iv, v

Power

AC adapter (25W, 100-240VAC, 50/60Hz)
Li-ion battery (3.8V, typical 8480mAh; min. 8220mAh)

Dimension (W x D x H) & Weight

218 x 142 x 27mm (8.58 " x 5.6" x 1.08")
774g (1.71lbs) vi

Rugged Features

MIL-STD-810H certified
IP67 certified
Vibration & 6ft (1.8m) drop resistant vii
ATEX & IECEx certified

Environmental Specifications

Temperature viii:
- Operating: -21°C to 60°C / -6°F to 140°F
- Storage: -40°C to 71°C / -40°F to 160°F

Humidity :
- 95% RH, non-condensing

Explosion Protection

ATEX/IECEx Zone 2/22
Ex II 3G Ex ic op is IIC T5 Gc
Ex II 3D Ex ic op is IIIB T100°C Dc

Pre-installed Software

Getac File Browser
Getac Camera
Getac Input Method
Getac Driving Safety Utility (trial version)
Getac deployXpress (trial version)
Getac settings and Google applications (Search, Chrome, Gmail, Maps, YouTube, Play, Drive, YouTube music, Play movies, Duo and photos)

Optional software

Getac Driving Safety Utility
Getac deployXpress
Getac OEMConfig

Accessories

AC adapter (25W; 12V/2A, 100-240VAC; 50/60Hz)
Capacitive stylus with tether
Pen holder
Wrist strap

Optional:
AC adapter (25W; 12V/2A, 100-240VAC; 50/60Hz)
Capacitive stylus with tether
Hand strap with stylus holder
Wrist strap
Pen holder

Bumper-to-Bumper Warranty

Accidents can take your equipment out of service when you least expect it, especially in a rugged environment, which can cause costly equipment downtime.
That is why Getac has introduced accidental damage as standard under our Bumper-to-Bumper warranty, to help minimize your enterprise IT costs.
Bumper-to-Bumper is your hassle-free guarantee. That means you can depend on us to have your unit back in service within days.

Standard
3 years Bumper-to-Bumper
Android enterprise recommended rugged devices deliver a consistent set of features verified by Google with an elevated device baseline, increased security standards and enterprise-focused features and behaviors to meet the needs of users. Google and Android are trademarks of Google LLC.
Bluetooth performance and connectable distance may be subject to interference with the environments and performance on client devices, users may be able to reduce effects of interference by minimizing the number of active Bluetooth wireless devices that is operating in the area.
Units with 4G LTE option comes with an embedded SIM card slot.
13.56MHz HF RFID/NFC reader (ISO 15693, 14443 A/B, Mifare and FeliCa™ compliant).
HF RFID/NFC combo reader applies to US & EU.
Weight and dimensions vary from configurations and optional accessories.
Drop test results vary from configurations and optional accessories.
Tested by an independent third-party test lab following MIL-STD-810H.
Information provided herewith is for reference only, available specification shall be subjected to quotation by request.
Need a quote? Let's talk!