The world's first secure Android 4.1 tablet solution suitable for defence and government markets is undergoing an alpha trial to secure accreditation from the UK Ministry of Defence (MoD).
The Z710 7" Android tablet is produced by global designer and manufacturer of rugged computing technology Getac, and equipped with security specialist Becrypt's Titan II software. The device will undergo trials by global security company Northrop Grumman as a Blue Force Tracking (BFT) system designed to link tactical commanders with vehicles and personnel in the field.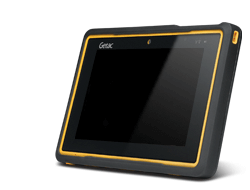 Originally launched at DSEI in September 2013, the fully rugged tablet will be deployed in trials as part of Northrop Grumman's Situational Awareness (SA), and Command and Control (C2) solution, incorporating Soldier Link System (SLS); a key benefit being the tablet's form factor, which enables a commander to use the device in a vehicle or on foot. When combined with Northrop Grumman's Integrated Joint Command and Control System (I-JOCCS), SLS provides seamless and scalable SA and C2 capability – complete with decision aids and planning tools – from a large scale static operational HQ to the section commander at the forward edge of the battle.
A successful trial will result in accreditation by the UK Ministry of Defence (MoD).
The Getac Z710 7" Android 4.1 rugged tablet, built with Becrypt's Titan II encryption platform, provides a fully secure system that can support a range of applications that government and defence markets can use with confidence. Aimed at sectors that require a fully rugged mobile device, the Z710 weighs just 800g, with a battery that gives more than 10 hours of operational time. It is a fully integrated device, which includes a 1D/2D barcode reader and an advanced GPS technology (SiRFstarIVTM) accurate to 1.5 metres.
The hardware is supported by Becrypt's secure software, which ensures that all device application and user data is protected with FIPS 140-2 compliant encryption. Administrators also have complete control, so they can create separate encrypted user accounts or personas, enforce strong authentication, and manage different application and device policies – all of which reduce support and maintenance overheads.
Dr Bernard Parsons, CEO at Becrypt, commented: "The demand for achieving more effective use of mobile technology is as great within the defence arena as anywhere. The Z710 is the ideal platform to realise the benefits sought, combining both the power and form factor that the project requires. We are excited to be working in this partnership with experts and leaders in their fields. With Northrop Grumman's impressive understanding of the customer's environment, our job is to ensure security remains robust but transparent, allowing technology to be an enabler for project transformation."
Peter Molyneux, President of Getac UK, said: "The Getac Z710 is the ultimate Android rugged tablet solution for government, military, defence and public sector personnel. Combined with Becrypt's industry-leading security capabilities, we are proud to offer a powerful device that will significantly enhance military operations in the field."