Joint technology partnership targets government, military and defence markets with future-proof security solutions
Becrypt today announced a new technology partnership with Getac to provide the first secure Android tablet solution suitable for military, defence and government and wider public sector markets based on Getac's ruggedised devices.
The platform based on Android 4.1, is delivered on a fully rugged Getac tablet with enhanced security features, and will provide a more secure system from which to support a wide range of bespoke applications that government, military and defence markets can use with confidence. The new device will premiere at the defence and security exhibition, DSEI, in London in September.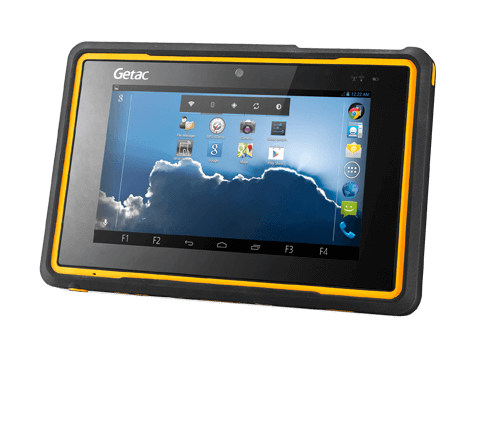 Peter Molyneux, President of Getac UK said: "Our Android rugged tablets coupled with Becrypt's industry-leading security capabilities offer a powerful solution to the market. Becrypt takes an innovative approach to solving security challenges to provide accredited yet flexible solutions. Together, our customers in the government, military, defence and public sectors can trust us to deliver the highest levels of security, coupled with reliable, rugged technology, to protect their confidential and sensitive data and drive productivity and performance."
Becrypt is collaborating with Getac to provide security platforms for both Android and Windows 8 tablets (Becrypt already has a CESG accredited solution for Windows 8 tablets),
including device encryption, system hardening, peripheral control and centralised management which significantly improves ability to control devices, enforce security policies, and provide audit trails and reporting while reducing support and maintenance overheads.
Dr Bernard Parsons, CEO at Becrypt, said: "Tablet adoption is growing in security-conscious markets and we are proud to work with Getac to develop innovative yet practical solutions that protect data on a variety of form factors, for today and for the future. Our future-ready strategy focuses on remote deployment and centralised management of devices to deliver the same high performance and reliability that customers have come to expect of their laptops, with the added bonus of increased security and portability made possible by the latest mobile technology."
The new Becrypt and Getac solution will also be on show at the National Conference of the Police Superintendents' Association being held at Chesford Grange Hotel, Kenilworth, September 10th-11th.
For more information about Becrypt and Becrypt solutions, please visit: www.becrypt.com
About Becrypt
Becrypt is a leading supplier of innovative cyber security solutions and services, providing feature-rich, out-of-the-box products that are government-certified and suitable for many industry sectors. Becrypt provides a range of Information Assurance solutions to protect data at rest and data in use, including high-grade encryption solutions for servers, desktops, laptops and tablet devices, as well as end point solutions that enable secure mobile working and secure thin client virtual data infrastructure (VDI) access. When used together Becrypt products provide a complete Enterprise Security Platform.
Becrypt solutions enable organisations to manage enterprise security centrally, significantly improving the management of computers and devices, enabling the enforcement of security policy, providing audit trails of security events, proving compliance, and reducing maintenance and support overheads. Becrypt Enterprise Manager is able to manage the full security estate including security products from different vendors as well as Becrypt's own solutions.
Becrypt also supplies cyber security consultancy and is a leading supplier of encryption technology to the UK Government, Ministry of Defence and UK Police.
Becrypt has offices in London, UK, and McLean, VA, USA. For more information visit: www.becrypt.com
For Media Resources including high resolution image downloads please visit: http://www.becrypt.com/news-events/news
Editors Contacts
Keith Ricketts
Marketing Director
Becrypt
Tel: +44 (0) 7809 391 037
Email: [email protected]
Andreina West/Mary Phillips
PR Artistry Limited
Tel: +44 (0) 1491 639500
Email: [email protected]