GETAC FIXED MOUNT PC
POWERFUL PERFORMANCE FOR REAL-TIME RESPONSES
With a touch screen display designed specifically for emergency vehicles, the Getac Fixed Mount PC is a mobile computing solution for first responders, ensuring faster response times, empowered decision making and on-demand data access in even the harsh environments.
The Getac Fixed Mount PC is a rugged yet ergonomic computing system custom-built for law enforcement officers and other first responders who require a computing system that never leaves the vehicle. The system's powerful computing platform, superior touch screen display capabilities and ergonomic keyboard ensure on-demand access to mission-critical data, providing stable, non-stop operation, even in the most challenging work conditions.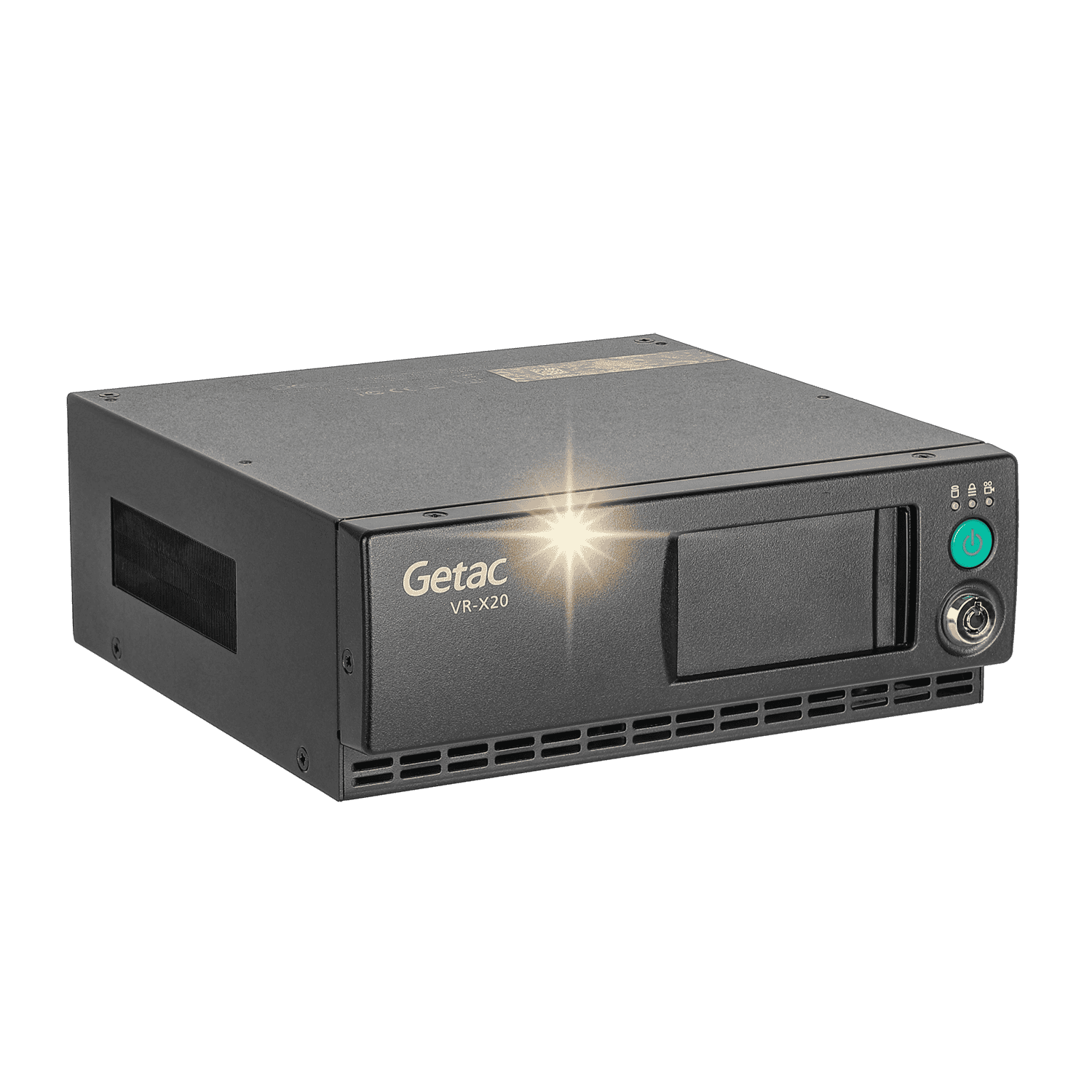 POWERFUL PERFORMANCE, SMALL FOOTPRINT
Featuring the 7th Generation Intel ® Core TM i7 Quad-Core processor and multiple I/O interfaces, the Getac Fixed Mount PC provides extensive I/O options with a highly compact footprint. Designed specifically as in-vehicle computing system, it can simultaneously carry out multiple computationally intensive tasks with ease, while also saving on cabin space, ensuring that first responders have unfettered access to mission critical communications and software applications .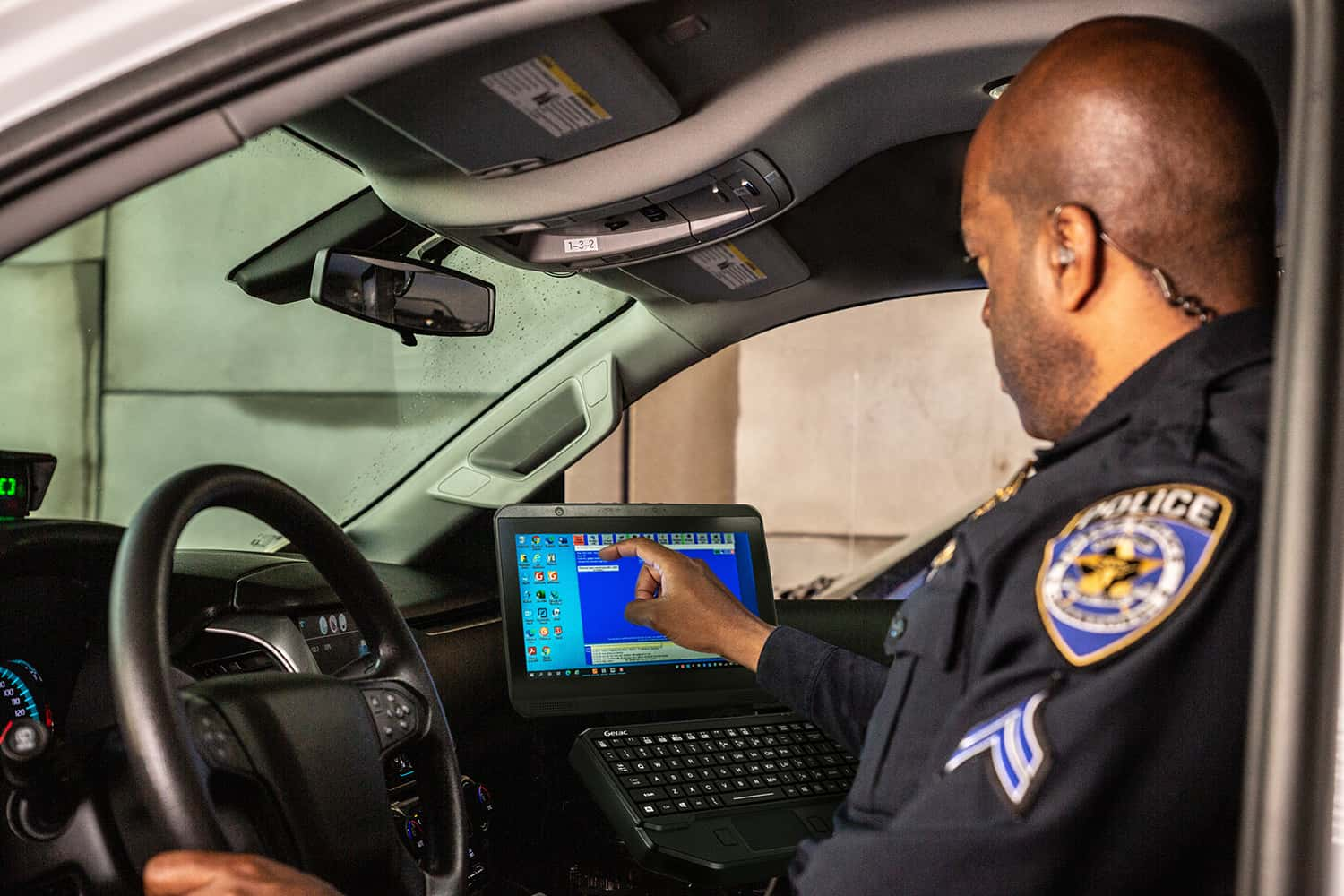 CONSTANT CONNECTIVITY FOR UNSURPASSED PRODUCTIVITY
The Getac Fixed Mount PC enables ultra-fast connectivity, ensuring enhanced productivity via real-time performance. With built-in WiFi and Bluetooth, it offers speedier WLAN connectivity and enhanced Low-Power Wide-Area (LPWA) device connectivity, while its 4G LTE and GPS capabilities yield increased bandwidth and precise geolocation information anywhere on the planet. Approved for the use of U.S. Dedicated Public Safety Networks, depending on the carrier subscribed to by first responders, the Getac Fixed Mount PC grants law enforcement and other first responders first-in-line access to system networks during an emergency.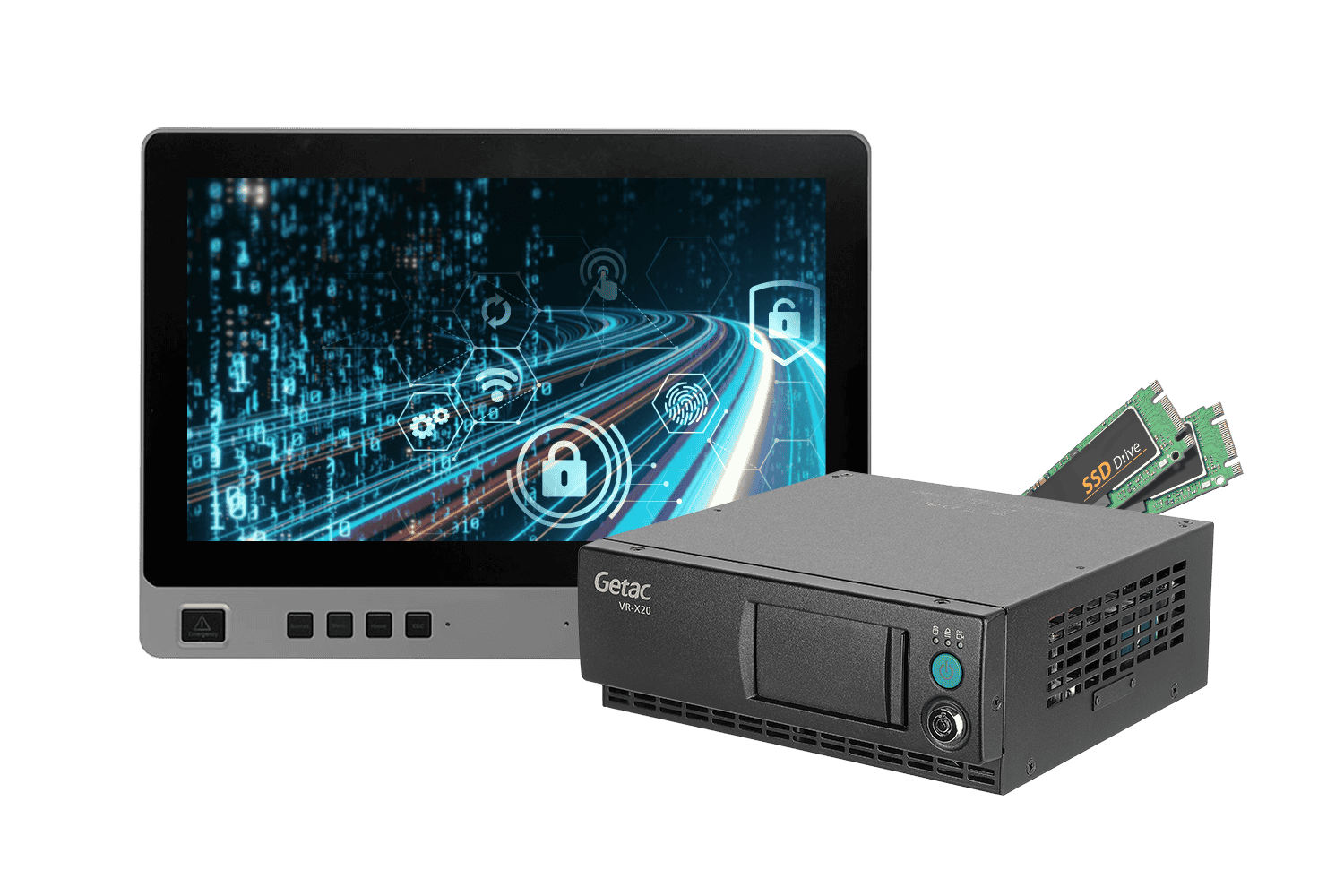 SUPERIOR EFFICIENCY AND FLEXIBILITY
With its dual solid-state drive (SSD), the Getac Fixed Mount PC offers users both efficiency and flexibility for data storage and transfers. By providing easy storage resource allocation, such as storing backups in a separate drive, it offers both the space and speed required for data-intensive applications.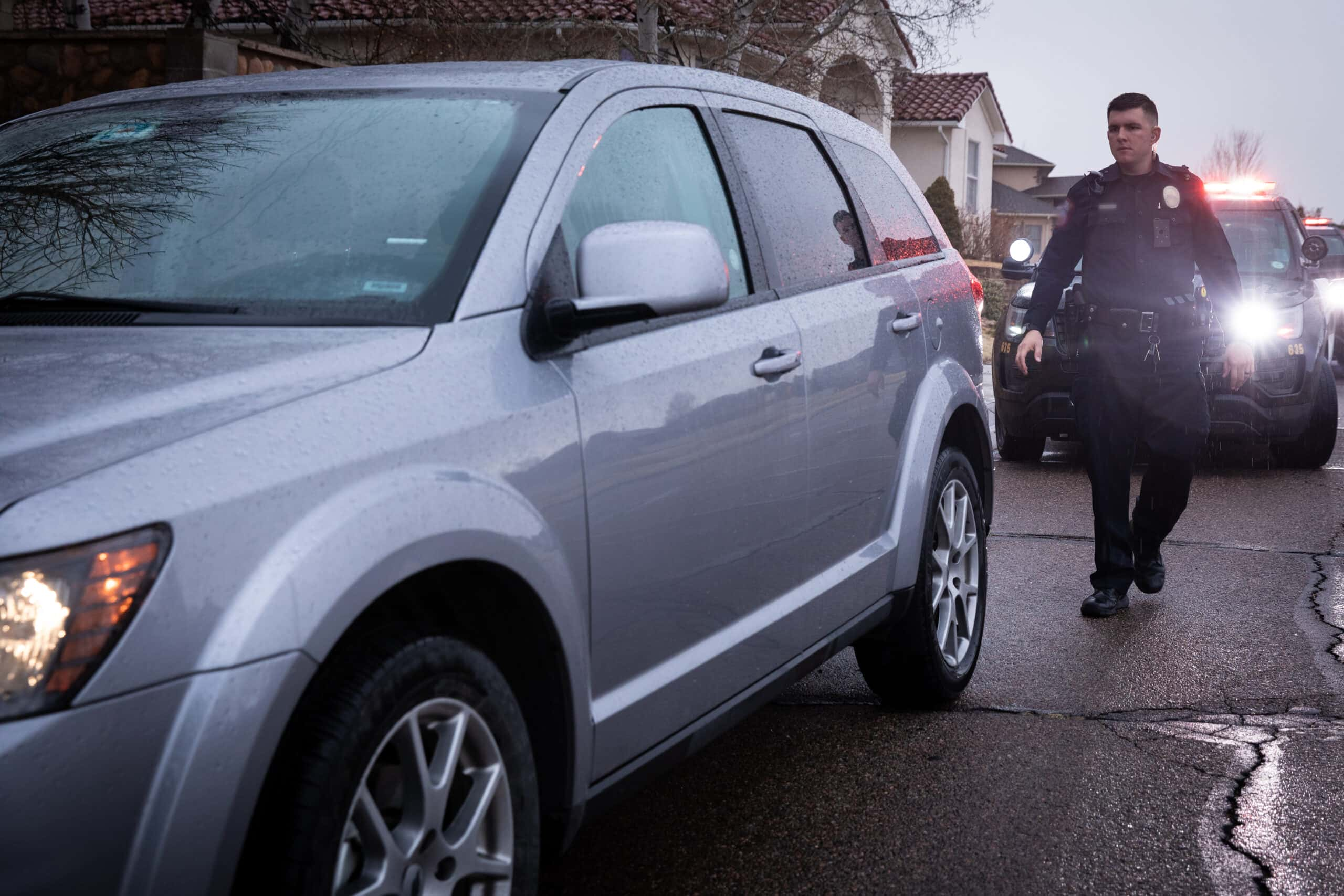 ROBUST DATA PROTECTION
With a range of hardware and software security options, the Getac Fixed Mount PC can enable Multi-Factor Authentication (MFA) for all users, ensuring uncompromising data security. For example, the system's Getac Rugged Keyboard is capable of integrating both a smart card reader and LF/HF RFID reader, providing powerful protection against data theft by unauthorized users.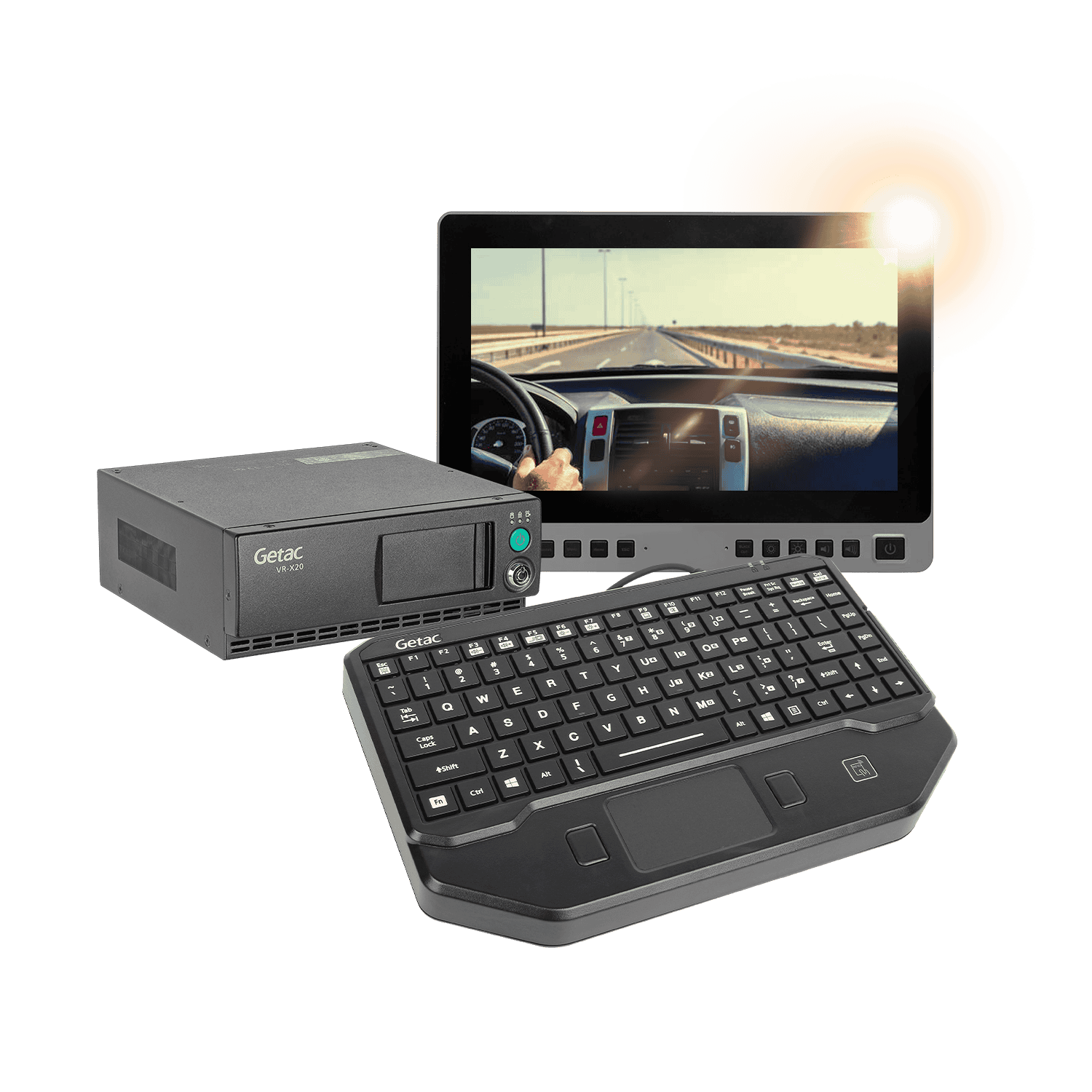 BRIGHTER, STRONGER, MORE VERSATILE
With brightness up to 1,000 nits , the Getac Fixed Mount PC's display is both bright enough to be read in bright sunlight and rugged enough to withstand the harshest environments. Custom-built for use in emergency vehicles based on input from first responders, the touch screen display (11.6" or 13") is equipped with outstanding capacitive multi-touch capabilities and includes both a programmable emergency button to send instant notifications about emergencies and a blackout button to black out the screen for privacy or to minimize driver distractions. Moreover, the integrated speakers provide clear sound to compensate for road noise and other distractions.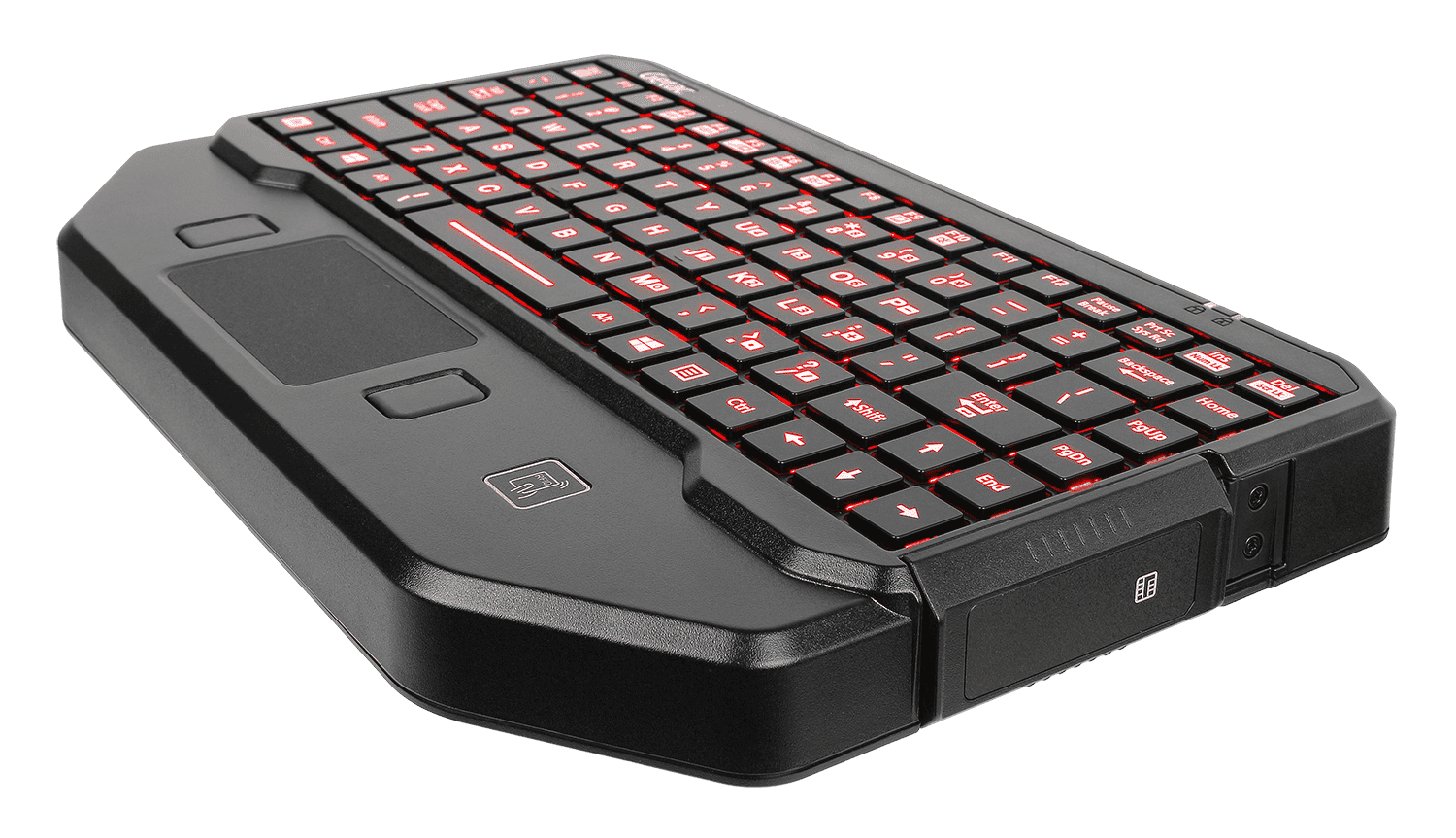 DURABILITY AND CONVENIENCE COMBINED
The Getac Rugged Keyboard is both extremely durable and built for convenience. Designed with both VESA and AMPS mounting capabilities that allow it to be firmly secured in a vehicle, the keyboard is MIL-STD 810G and IP65 certified for use under the most demanding conditions, including operating temperature extremes ranging from -21°C to 60°C (-5.8°F to 140°F), while its 88 full-sized keys and red LED backlight provide ease-of-use and optimal performance and productivity even in low-light nighttime environments.
GETAC FIXED MOUNT PC FEATURES
Industries Using GETAC FIXED MOUNT PC
Beyond Expectations.
Our new Bumper-to-Bumper fully rugged warranties go beyond the expected to protect your productivity.

3-Year Warranty.
Accidents can take your equipment out of service when you least expect it, especially in a rugged environment, which can cause costly equipment downtime. That is why Getac has introduced accidental damage as standard under our Bumper-to-Bumper warranty, to help minimize your enterprise IT costs. Bumper-to-Bumper is your hassle-free guarantee. That means you can depend on us to have your unit back in service within days.
Standard 3 years Bumper-to-Bumper
For full details of the warranty protection, see the Terms and Conditions.
*Images shown are for reference only. Actual product may vary due to product enhancement.
Need a quote? Let's talk!