Mission-critical can be a relative term. When it comes to businesses, we often refer to servers or Wi-Fi access points as mission-critical technology. But for the individual worker, your personal computer is essential to doing your job, especially in the wake of digital transformation in the public and private sectors. We're always online now, always connected, and becoming more so. However, the average consumer-grade or business-grade laptop is still designed for indoor use in clean, safe, climate-controlled spaces only.
If you use it outdoors, in a vehicle, or in an area where welding or machine work happens, you risk compromising the user experience and damaging the machine itself. The latter risk was more tolerable when your IT department could deal with device failures relatively swiftly. But with remote and hybrid working arrangements becoming the norm, a timely resolution is becoming harder.
Failure is not an option if you cannot resolve an operational failure in your primary work computer. You'll need a device that goes above and beyond what business-class can do.
Have You Considered Semi-Rugged?
Semi-rugged laptops are designed for professionals who need an office-style computer with a full keyboard. These individuals also spend portions of their day in hard-hat areas where safety and climate control are not guaranteed.
Industries that commonly use semi-rugged laptops include automotive, manufacturing, law enforcement, and certain utilities. In truth, any industry or enterprise where physical risks to your device are not trivial, or where mobile connectivity and information security must always be maintained, or where you might need your laptop to run on battery power for an entire shift or longer, would be better served by a semi-rugged than a consumer or business-grade device.
The same applies if you use your device under direct sunlight. The average laptop screen produces about 250 nits of brightness. However, viewing under direct sunlight requires at least 1,000 nits, which requires serious battery capability if you need such viewing for any time – a good-quality semi-rugged offers both.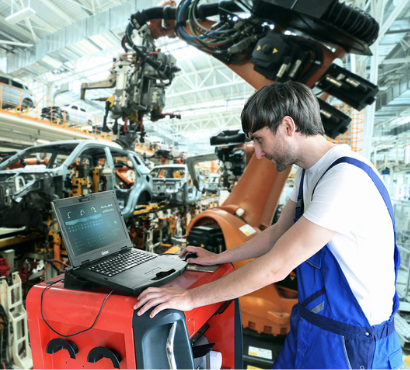 What Qualifies as Rugged?
Rugged computing devices (whether semi-rugged or fully rugged) are built for use away from air-conditioned indoor areas. They're built for a longer lifecycle than an enterprise or consumer-grade machine, making breakdowns and damage less frequent. They also offer multifactor user authentication (recently ordered by President Biden for all computers used by US federal agencies). These devices have multiple high-speed wireless connection options, including Wi-Fi, LTE/5G, or even Li-Fi.
Using rugged computers with work gloves is operable in the winter cold or summer heat (-21oC to 50oC at the minimum). They're also certified waterproof and dustproof and tolerant of drops, impact, and other abuse. And those certifications are essential. Any vendor can put a metal chassis on a laptop and call it rugged. But that's not enough on its own.
A proper rugged device will have at least two forms of certification. One is Military Standard (MIL-STD), which proves the device has undergone a series of harsh tests originally devised for military equipment. The other is IP-rating, which verifies water- and dust-proofing. Without both certifications, you should consider a device's ruggedness to be nothing more than marketing.
What Does Semi-Rugged Mean?
Getac recognizes two categories of rugged devices: fully rugged and semi-rugged. A Getac semi-rugged laptop will offer the enhanced battery, screen, connectivity, security, and temperature capabilities mentioned in the previous section. The device is also certified tolerant of moderate levels of abuse (MIL-STD-810H).
These devices shall withstand a 3-foot drop without damage or operational interruption. It will be usable on a vibrating surface. It will operate in the dusty conditions typical of a machine shop or mechanic's garage or for brief periods of moderate rain (IP53 rating). In short, it will offer the same heightened technical capabilities of a fully rugged laptop while omitting certain extreme and/or niche tolerances.
Some device vendors will try to pass off "business-rugged" devices as semi-rugged. But the term "business-rugged" is problematic. It has no consistent definition, which is one reason Getac doesn't use it. A business-rugged laptop might have the exact tolerances of a semi-rugged one, or it might not. Look for the certifications.
What Else Can a Semi-Rugged Laptop Do?
When standard laptops get regularly burdened with heavy computational or connectivity workloads, they need maintenance. But a semi-rugged laptop can reduce your need for care under severe strain drastically.
And what's more, business laptops are typically built for general office tasks, not industrial applications. They might not offer the legacy or industry-specific device compatibility needed or integrate easily with any custom software. But Getac semi-rugged devices can fit right in for several industries.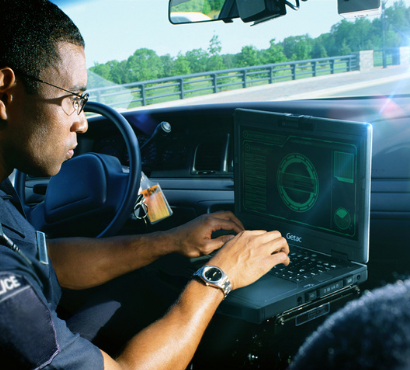 Law Enforcement
With their easy mounting, viewability under direct sunlight, ability to withstand the stress and vibration of a high-speed pursuit, and custom integration with Automatic Number Plate Recognition (ANPR) software and Police National Computer (PNC) access, our semi-rugged devices are well-suited to in-vehicle patrol work.
Automotive & Manufacturing
Our semi-rugged laptops are dust- and mist-tolerant, easy to mount, work-glove usable, and can withstand the typical abuses encountered in a garage, workshop, machine shop, or on a factory floor. They can also be engineered for any industry-specific and legacy interfaces you need and integrate easily with your Enterprise Resource Planning (ERP) and Manufacturing Execution Systems (MES), as well as your quality inspection software.
Utilities
With their modest weight, sunlight readability, and moderate rain tolerances, Getac semi-rugged laptops work well for outdoor tasks done by water companies, telecoms, and electricity providers (assuming no risk of explosive atmosphere). Semi-rugged laptops' extended battery life is handy during long work shifts spent inspecting or meter reading. Their dedicated GPS enables easy workforce management, survey work, and Geographic Information System (GIS) use. And with their smooth integration with EAM and CMMS software, asset management and maintenance management are less of a hassle, respectively.
A Good Semi-Rugged Can Be Well Worth It
A good semi-rugged laptop can offer a significant step up for your organization in terms of capability and build quality. Getac's model is only 1.5-inches thick and weighs a little over five pounds, a modest increase over an enterprise-class notebook of the same screen size. It also omits the rubberized padded corners or other "toolbelt & workboot" accouterments typical of other rugged models. You can use it in a coffee shop, office, or boardroom without seeming out of place.
And with a unit price only a modest step up from what a high-end business notebook would command, the superior reliability, capability, flexibility, and aftersales support you get with a Getac semi-rugged computer are well worth it.
Get the full details here.