Getac X500
SCHERMO AMPIO. ESPANSIONE INFINITA.
Quando si ha necessità di un display ampio da 15,6", ad alta definizione o della possibilità di aggiungere schede PCI o PCIe, è bene dare un'occhiata al potente X500.
SCHERMO AMPIO. ESPANSIONE INFINITA.
Il notebook portatile fully rugged X500 rimane il nostro modello di punta.Combinando i potenti processori Intel Quad-Core di ultima generazione con un nitido schermo Full HD da 15,6" ed espansione infinita, X500 è il computer portatile più potente di sempre.
SCHERMO AD ALTA DEFINIZIONE PIU' AMPIO
X500 è dotato di un notevole schermo Full HD 1080p widescreen da 15,6" che garantisce un'alta risoluzione con chiarezza estrema. Se configurato con NVIDIA© GeForce© GTX950M discrete graphic controller con 4GB di memoria dedicata, è possibile raggiungere una velocità maggiore (in frame per secondo) con una straordinaria sensibilità.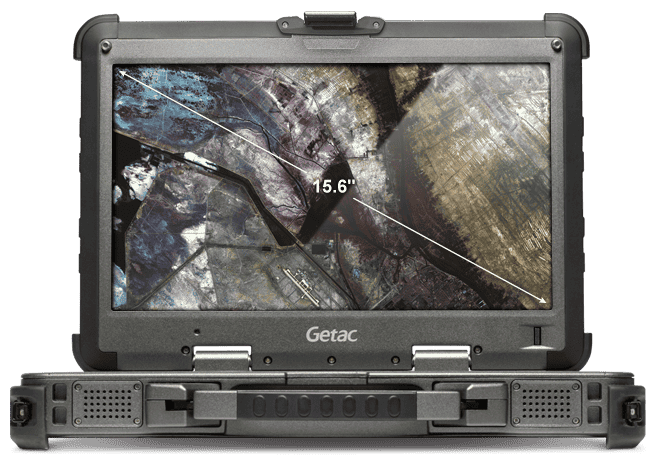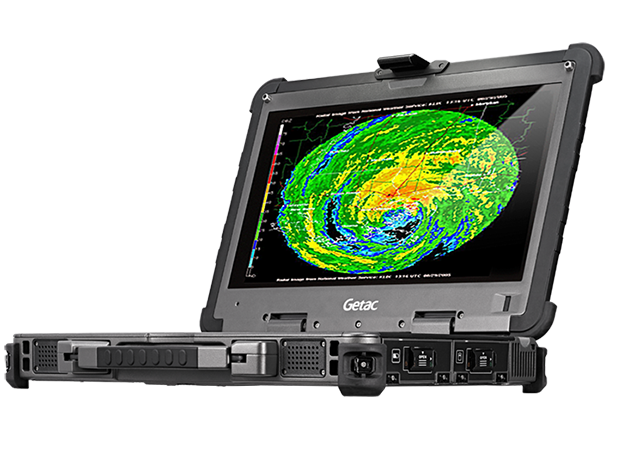 SCHERMO LEGGIBILE ALLA LUCE DEL SOLE
Il notebook fully rugged X500 è dotato dell'avanzato schermo QuadraClear®. La soluzione QuadraClear® di Getac combina tecnologie proprietarie sia per la luminosità dello schermo che per l'antiriflesso per ridurre gli effetti della luce solare e garantire un rapporto di contrasto effettivo migliore rispetto agli altri schermi, continuando a mantenere la durata della batteria necessaria sul campo. Il dispaly QuadraClear® a LED assicura efficienza energetica a uno schermo senza mercurio, resistente e con una prolungata luminosità.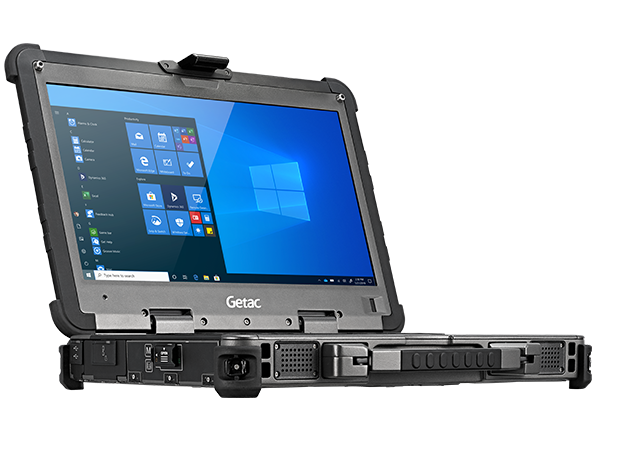 PROCESSORI ALL'AVANGUARDIA
Grazie all'avanzatissimo processore Quad-Core Intel Core i7 da 2,9 GHz, X500 è il uno dei potenti computer rugged mai realizzati. Il processore Quad-Core è ideale per rispondere alla necessità di operazioni multitasking necessarie negli ambienti di lavoro complessi.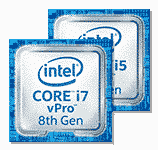 SEMPLICE ACCESSO ALLA CONNESSIONI PROTETTE E ALLE PORTE
Con quattro porte USB 3.0, due porte seriali, doppia porta Ethernet e una porta VGA, tra le altre, il notebook fully rugged X500 offre una ampia varietà di connessione alle periferiche.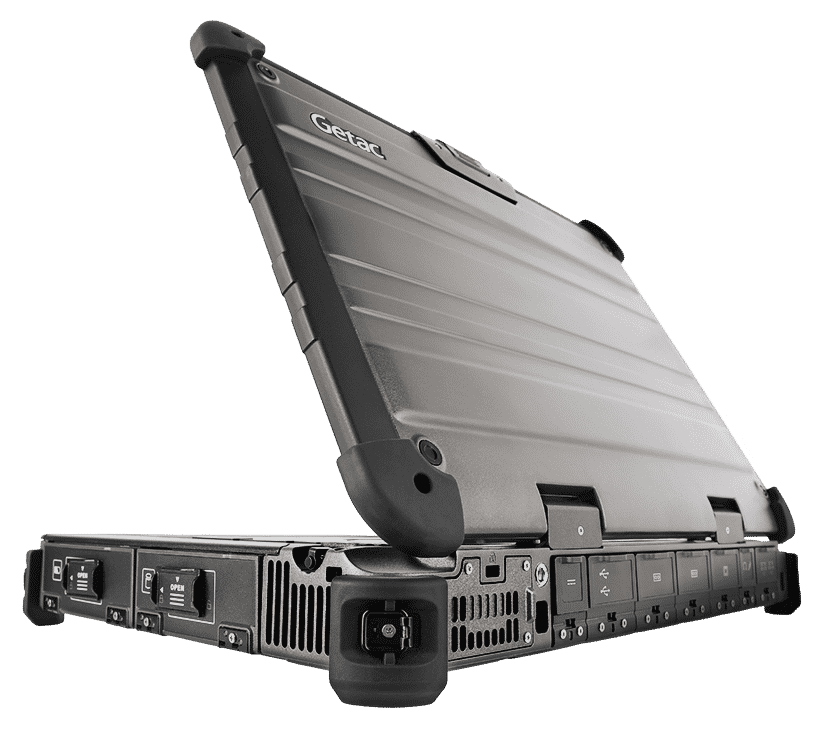 Built To Survive™
Solo Getac produce i propri computer rugged a partire dal telaio. Costruiti in lega di magnesio di alta qualità, i notebook fully rugged X500 presentano quattro alloggiamenti principali specificamente progettati per proteggere il computer da liquidi, urti, cadute, vibrazioni e altro. Il design sigillato protegge X500 da polvere e umidità. X500 è stato testato in modo indipendente ed è certificato MIL-STD-810G, IP65, MIL-STD-461G e ANSI/ISA 12.12.01 standard.
FUNZIONALITA' DEL GETAC X500
GARANZIA DI 5 ANNI
Le nostre Garanzie totali per dispositivi fully rugged superano ogni aspettativa in materia di protezione della tua produttività.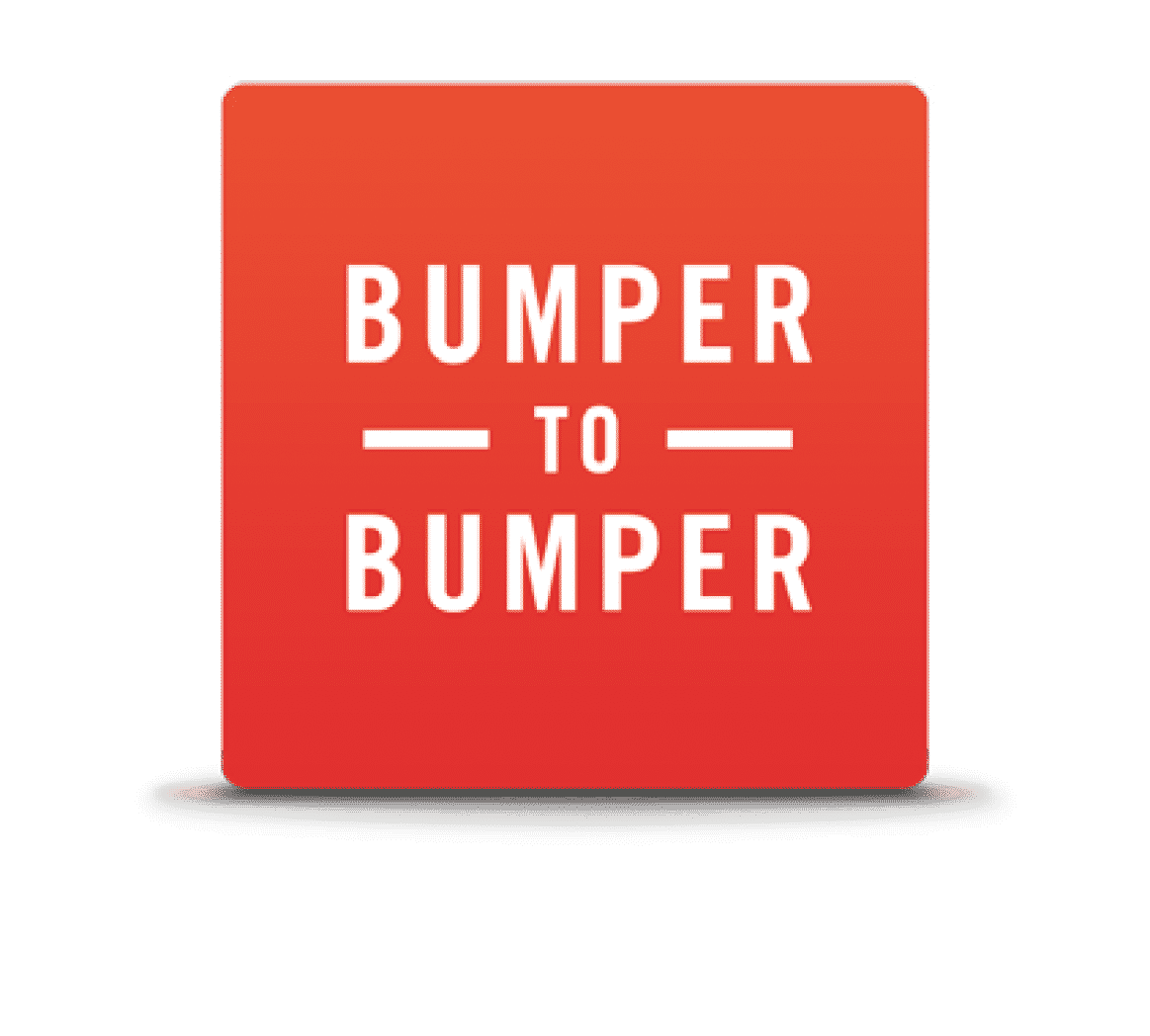 Gli imprevisti possono compromettere l'utilizzo dei dispositivi e causare tempi di inattività. Ecco perché Getac ha introdotto la copertura dei danni accidentali come elemento standard della Garanzia totale Bumper-to-Bumper, consentendo un'ottima gestione dei costi legati all'IT. La Garanzia totale è una formula agevole che offre un eccellente servizio di assistenza e riparazione rapido, effettuato da personale qualificato di Getac. In questo modo il dispositivo sarà nuovamente operativo nel giro di pochi giorni.
5 anni Garanzia totale Bumper-to-Bumper
Per i dettagli della garanzia, vedi Termini e Condizioni.
*Le immagini del prodotto sono puramente indicative. Il prodotto attuale potrebbe essere soggetto a variazioni migliorative
X500 TECHNICAL SPECIFICATIONS
Generation

G3

Operating System

Windows 10 Pro i

Mobile Computing Platform

Intel® Core™ i5-7440EQ 2.9GHz
Max. 3.6GHz
- 6MB Intel® Smart Cache

Platform options:
Intel® Core™ i7-7820EQ 3.0GHz
Max. 3.7GHz
- 8MB Intel® Smart Cache

VGA Controller

Intel® HD Graphics 630
Optional: NVIDIA® GeForce® GTX1050 4GB discrete graphics controller
Optional: NVIDIA® Quadro® P2000 4GB discrete graphics controller

Display

15.6" TFT LCD FHD (1920 x 1080)
Protection film
1,000 nits QuadraClear® sunlight readable display

Storage & Memory

8GB DDR4
Optional: 16GB / 32GB / 64GB DDR4 ii

500GB SATA HDD / 512GB SATA SSD
Optional: 1TB SATA HDD
Optional: 1TB / 2TB SATA SSD

Keyboard

LED backlit membrane keyboard with integrated numeric keypad
Optional: LED backlit rubber keyboard

Pointing Device

Touchpad
- Touchpad with two buttons

Expansion Slots

Smart card reader x 1
ExpressCard/54 x 1
Optional: PCMCIA Type II x 1

Multimedia Bay

DVD super multi drive
Optional 2nd storage: 500GB HDD / 1TB HDD / 512GB SSD / 1TB / 2TB SSD
Optional 2nd battery: 10.8V, 9240mAh, 99.8Wh

I/O Interface

Audio input (Mini-jack) x 1
Audio output (Mini-jack) x 1
DC in Jack x 1
USB 3.2 Gen 1 Type-A x 4
LAN (RJ45) x 2
HDMI 1.4 x 1
Docking connector x 1
External VGA (15-pin; D-sub) x 1
Serial port (9-pin; D-sub) x 2
Optional: FHD webcam x 1
Optional: RF antenna pass-through for GPS iii, and WLAN

Communication Interface

10/100/1000 base-T Ethernet
Intel® Dual Band Wireless-AC 8265, 802.11ac
Bluetooth (v4.2) iv
Optional: Dedicated GPS

Security Features

TPM 2.0
Kensington lock
Intel® vPro™ Technology
Smart card reader

Power

AC adapter (150W, 100-240VAC, 50/60Hz)
Li-ion battery (10.8V, 9240mAh, 99.8Wh)
Optional: Multimedia bay 2nd Li-ion battery (10.8V, 9240mAh, 99.8Wh)

Dimension (W x D x H) & Weight

410 x 320 x 65mm (16.1" x 12.6" x 2.5")
5.2 kg (11.4 lbs) v

Rugged Features

MIL-STD-810H certified
IP65 certified
MIL-STD-461G certified vi
Vibration & drop resistant
Full magnesium alloy case
Shock-protected removable HDD
Optional: ANSI/UL 121201, CSA C22.2 NO. 213 (Class I, Division 2, Groups A, B, C, D) vii

Environmental Specifications

Temperature viii:
- Operating: -20°C to 55°C / -4°F to 131°F xi
- Storage: -40°C to 71°C / -40°F to 160°F
Humidity:
- 95% RH, non-condensing

Pre-installed Software

Getac Utility
Getac Geolocation
Optional: Absolute Persistence®

Optional software

Getac Device Monitoring System (GDMS)

Accessories

Battery (10.8V, 9240mAh, 99.8Wh)
AC adapter (150W, 100-240VAC)

Optional:
Backpack
Battery (10.8V, 9240mAh, 99.8Wh)
Multimedia bay 2nd Storage
Multimedia bay 2nd battery (10.8V, 9240mAh, 99.8Wh)
Multi-Bay charger (Dual-Bay)
Multimedia bay DVD super multi drive
AC adapter (150W, 100-240VAC)
Office dock AC adapter (150W, 100-240VAC)
MIL-STD-461 AC adapter (150W, 100-240VAC)
Protection film
PCI or PCI-Express 3.0 expansion unit (x2 slots) ix
Vehicle dock x
Office dock x
Spare SSD kit

Bumper-to-Bumper Warranty

Accidents can take your equipment out of service when you least expect it, especially in a rugged environment, which can cause costly equipment downtime.
That is why Getac has introduced accidental damage as standard under our Bumper-to-Bumper warranty, to help minimize your enterprise IT costs.
Bumper-to-Bumper is your hassle-free guarantee. That means you can depend on us to have your unit back in service within days.

Standard
5 years Bumper-to-Bumper
From 14th October 2025, Windows 10 Pro is going to End of Service. Windows 10 Pro will not be upgradable to Windows 11 Pro and will no longer be eligible to receive Microsoft security updates.
Share memory size may vary by different operating system and RAM size.
Optional RF antenna pass-through for GPS, PCI or PCI-Express expansion unit are mutually exclusive options.
Bluetooth performance and connectable distance may be subject to interference with the environments and performance on client devices, users may be able to reduce effects of interference by minimizing the number of active Bluetooth wireless devices that is operating in the area.
Weight and dimensions vary from configurations and optional accessories. Depth including hard handle.
MIL-STD-461 150W AC adapter sold separately.
PCI or PCI-Express 3.0 expansion unit is not available with ANSI/UL 121201, CSA C22.2 NO. 213 configurations.
Tested by an independent third-party test lab following MIL-STD-810H.
PCI or PCI-Express 3.0 expansion unit is not compatible with vehicle dock and office dock.
Gamber Johnson and Havis vehicle docks are e-mark certified.
For X500 optional DVD / Blu-Ray super-multi drive, the operating temperature is -10°C to 50°C / 14°F to 122°F.
Information provided herewith is for reference only, available specification shall be subjected to quotation by request.
Need a quote? Let's talk!