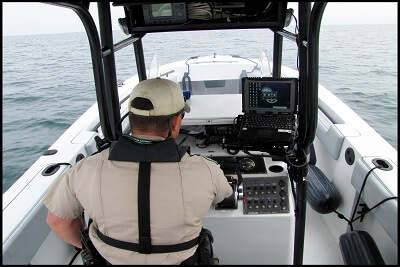 "The state-of-the-art computing solution enables effective patrol. Despite of sunshine, dimness, and salt water, Getac V100 shows its spirit in such tough environment"
~ says Florida Fish and Wildlife officer
Challenge
The Florida Fish and Wildlife Conservation (FWC) has 73 dispatchers who provide dispatch services to FWC members and federal agents throughout the state. These dispatchers, unlike many, have to know the areas in which the FWC officers are working. These areas are not defined by mile markers or city streets. Instead, they are known by levees, offshore reefs, private lands, waterways and sometimes even by an oak tree. Area knowledge and a unique understanding of how the FWC officers do their job are the keys to the dispatchers' success.
An FWC officer's primary duty is to enforce boating, fish and wildlife laws and to investigate serious boating and wildlife crimes. They work with landowners to minimize and resolve problems, and they have hundreds of contacts yearly with the public, including sportsmen, landowners and other citizens, in which they inform and educate about boating, wildlife and conservation law enforcement. Work schedules are flexible, allowing officers to work eight hours out of a 13-hour shift window depending on the enforcement that needs to occur for the day. are flexible, allowing officers to work eight hours out of a 13-hour shift window depending on the enforcement that needs to occur for the day.
Since FWC officers work outdoors, riding all terrain vehicles (ATVs), 4×4 vehicles, air boats, and large offshore vessels, the endurance of equipments if critical. Computers have to stand salt water and sunshine. It has to be switched to high sunlight readability, night vision, or stealth mode easily to meet requirements under different environments.
Solution
The Getac V100 notebooks were purchased with a 320GB HDD and 4GB RAM to ensure that the GIS mapping and other applications would operate properly. Because these computers are used in the marine environment so close to salt water exposure, a fully sealed, rubber, back-lit keyboard was mandatory. Also, working in mostly sunny conditions requires a bright screen of 1200 nits with the ability to dim to 1.7 nits for stealth operations at night. Other features include an embedded fingerprint scanning module, internal GPS module, WiFi/Bluetooth and an SD memory card slot.
Regarding wireless connectivity, the FWC must have the ability to stay connected throughout the entire state, and each wireless carrier has areas of good coverage and areas of poor coverage. To ensure its officers always stay connected without creating user intervention troubleshooting, the FWC computers use an internal mobile broadband module called Gobi 2000 which allows users to seamlessly switch between Verizon, Sprint and AT&T.
The key law enforcement applications supported and in use on the Getac V100 notebooks include the proprietary fingerprint software that works in conjunction with the embedded fingerprint scanner, Microsoft Office Suite as well as Microsoft Mappoint 2009, Google Earth and the standard police applications on the FWC network (FCIC/NCIC/DAVID).
SmartMCT and Mobile Forms are software programs developed by CTS America that allow users to have access to CAD information, query both the NCIC and FCIC databases for hit responses, utilize the AVL (Automatic Vehicle Locator) functionality for mapping and logistics within their region, and write and issue warnings and citations for violations.
Benefit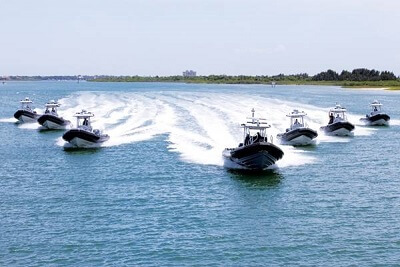 The FWC officers are working close to marine environment, salt water is a tough challenge to patrol equipments. Getac V100 fully rugged notebook is salt-fog protected, which is durable under harsh environment, minimize downtime and repair cost. Tailor-made for outdoor users, the screen of Getac V100 is adjustable to different brightness, without switching to other aided device, increase convenience for FWC officers.
Dealing with diversified situation during patrol, seamless communication and data access make officers do their job easier. With the help of information technology, FWC officers accomplish their mission efficiently; protect endangered species and boating safety.