POR QUE ESCOLHER A GETAC?
Na Getac, fabricamos soluções robustas líderes do setor desde o início para os ambientes mais extremos do mundo. Trabalhamos com nossos parceiros para oferecer soluções ecológicas totalmente integradas para aplicações industriais especializadas.
DETALHES DOS PRINCIPAIS PONTOS DE VENDA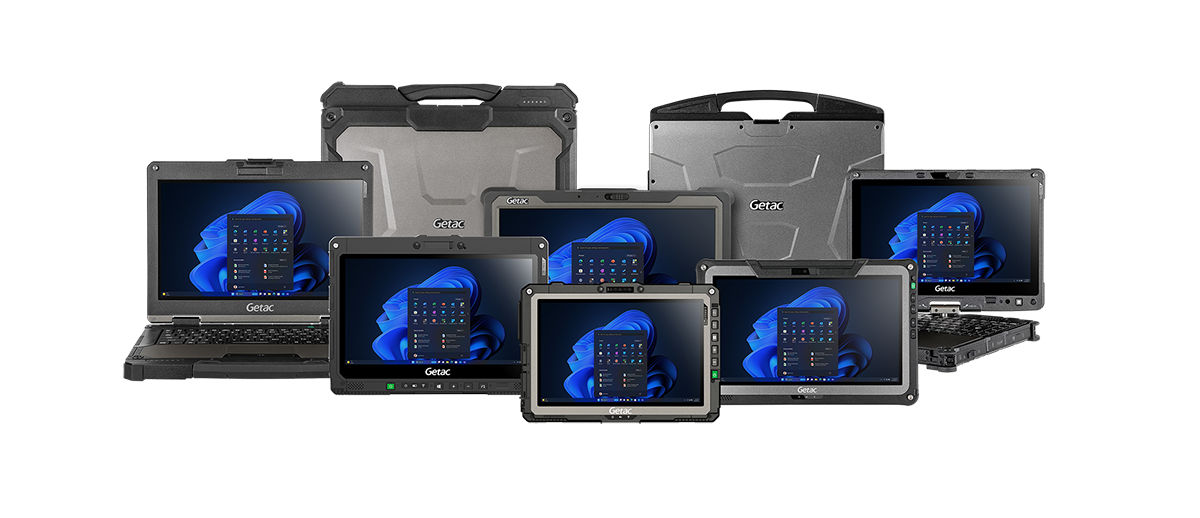 Mais de 30 anos de inovação em tecnologias robustas
Especialistas em tecnologias robustas experientes e dedicados para auxiliar você de ponta a ponta nas etapas de definição de escopo, planejamento, desenvolvimento, implantação e manutenção, para que você possa alcançar uma mobilidade sustentável.
Suporte global em mais de 150 países + Garantia líder do setor
Com nossas filiais globais, mais de 1.600 distribuidores, revendedores e parceiros de suporte técnico em todo o mundo, reduzimos custos e aumentamos a eficiência. Além disso, nossa garantia de 3 a 5 anos líder do setor inclui uma política de garantia descomplicada, bem como processos de reparo e devolução rápidos conduzidos por especialistas internos da Getac.
Industry-tailored Solution and Service
Working closely with customers and ecosystem partners, we can meet the industry demands and unique user scenarios. With innovative rugged devices, accessories, software and professional service, Getac Select® solutions reduce the TCO and solve industry business challenges for our customers.
Soluções e serviços sob medida para o setor
Ao trabalhar em colaboração com clientes e parceiros do ecossistema, podemos atender às demandas do setor e cenários de usuários específicos. Com dispositivos robustos inovadores, acessórios, software e serviço profissional, as soluções Getac Select® reduzem o TCO e resolvem desafios de negócios do setor para nossos clientes.
Certificações de robustez
Usamos um laboratório de pesquisa, engenharia e avaliação independente e internacionalmente reconhecido para certificar que nossos produtos atendem ou excedem as classificações MIL-STD-810H, MIL-STD-461G e IP.
LumiBond® 2.0 e tela legível sob a luz do sol
Nossa revolucionária tecnologia LumiBond®2.0 combina o vidro da tela com o painel de toque e o LCD, aprimora a funcionalidade de toque e oferece uma tela mais legível em ambientes internos e externos. Além disso, a solução QuadraClear® da Getac fornece um display LED com eficiência energética, sem mercúrio, durável e com brilho consistente ao longo do tempo.
Conectividade compatível com 5G
Com a compatibilidade com 5G e Wi-Fi 6 integrado com 4G LTE, Bluetooth 5.1 e GPS dedicado*, você pode concluir todas suas tarefas sem atrasos nem tempo de inatividade. Com o design da Getac, você permanece totalmente conectado a velocidades incríveis.
Segurança e proteção
A Getac integra as principais medidas de privacidade e segurança para garantir que seus dados estejam seguros e protegidos por segurança de alto nível, como identificação biométrica, comando sincronizado com acesso total e controle completo para proteger dados de caráter crítico em todos os terminais.
*Recursos incluídos mediante solicitação. A disponibilidade pode variar de acordo com o modelo.
SOLUÇÕES ROBUSTAS ESPECÍFICAS PARA CADA SETOR
Clique para saber mais sobre os dispositivos Getac projetados para seu setor.
VEJA O QUE NOSSOS CLIENTES ESTÃO DIZENDO
No nosso trabalho, a conectividade é muito importante. Necessitamos de ligar o tablet com o veículo, o medidor, a impressora e com quem faz a expedição. A robustez também é importante porque as falhas provocam atrasos. No fim de contas, os tablets Getac tornam o nosso trabalho mais eficiente em cerca de 60%.

A indústria de transportes marítimos requer uma plataforma de logística eficiente e muito organizada e, graças a fornecedores inovadores como a Getac, conseguimos oferecer serviços cada vez mais eficientes aos nossos clientes. Graças ao nosso parceiro tecnológico, a Sanval de Genebra, que nos tem apoiado de forma consistentes neste processo de inovação, identificámos o F110 e o T800 da Getac como os produtos mais apropriados para suportarem as nossas tecnologias. Os nossos operadores podem gerir todos os estágios de carga e descarga de forma independente e adotar o método de operação mais correto sem receios de interrupções no fluxo de trabalho devido a fracas condições climatéricas e, na verdade, conseguem melhorar a eficiência das suas tarefas diárias.

Somo um cliente de pequena dimensão – 30 unidades a cada três anos. Sabemos que somos pequenos e eles sabem que somos pequenos, mas tratam-nos de uma forma que outros fornecedores de computadores robustos só aplicam a compradores de grande volume, cujas ordens de renovação são nos milhares e não nas dezenas.

Os produtos Getac vão ao encontro das nossas expectativas em termos de fiabilidade do ecrã e conformidade com as normas ATEX. O ecrã é muito agradável e o Android apresenta novas funcionalidades, da mesma forma que facilita a velocidade de execução de operações, o que é positivo. As soluções da Getac também apresentam elevada qualidade de acabamento com uma robustez que parece ser a toda a prova.
Tem dúvidas? Fale connosco.