Efficiency and speed in logistics: Jarltech ensures customer satisfaction with the rugged T800 tablet
"Processes needs to run smoothly and not be delayed by hardware failures. That is precisely what Getac ensures with the T800, and the positive feedback from our employees confirms this. For me this means that we yet again made the right choice with Getac."
Ulrich Spranger, CEO Jarltech
Download pdf
Challenge
In the last 20 years, Jarltech has developed into one of the largest specialist distributors for POS and Auto-ID hardware in Europe –and is still growing. The central warehouse with several thousand square metres of storage space is attached to the company headquarters, located near Frankfurt am Main. From here products are sent across Europe. Despite the challenges that such a large size brings with it, customers' needs have the highest priority at Jarltech – after all, in addition to a large variety of other services the company offers a high degree of product availability and fast delivery a throughout Europe.
In order to meet the enormous number every day of nearly 18,000 ordered articles, Jarltech relies on in-house warehouse management, which consists of a proprietary, flexibly adjustable ERP system, as well as various hardware components. For commissioning, the Getac predecessor to the T800, the E100, was successfully implemented already in 2011. A special interface was developed for this purpose and all storage spaces in the system were reassigned. Since then the interface independently calculates the fastest route to all articles on the packing slip and checks to make sure that the removed article indeed matches the one on the packing slip. This way, the efficiency and quality of the commissioning process had significantly improved several years ago with faster shipment of goods and minimal process errors.
Due to digitalization of company processes rugged tablet usage had extended to other warehouse regions such as refitting or incoming goods department. While E100 did a great job earlier, its hardware is out of date and is an end of life product now.
The challenge at present is finding an adequate successor to the Getac E100, one which is capable of mastering the growing location and employee requirements when it comes to warehousing and logistics. Also, it should not require considerable extra financial expenses or compromise on quality for the affected company divisions.
Solution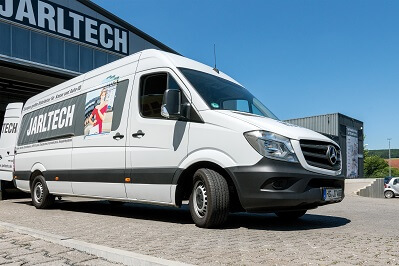 Jarltech's requirements for the device are clear and explicit: for continuous usage in the warehouse the optimal hardware must be particularly robust, resistant to dust and water, as well as be impact-resistant. To allow for uninterrupted workflow, it is also essential to have Bluetooth, a large, easily readable multi-touch display, and additionally feature an integrated reserve battery. When taking the future users into consideration it also should be lightweight and have intuitive handling.
Several products from various vendors were tested by a project team to see how well they fulfill the comprehensive requirements. Further important criteria were also taken into consideration, such as the interference-free operation of WLAN and Bluetooth, the reaction of the touch display, integration efforts and, of course, the price.
The T800 from Getac came out on top of all the tested devices in this comparison. The reliable usage of the predecessor model E100 also spoke well for Getac.
The integration of a total of 40 new tablets took place gradually within the affected warehouse areas, and proved to be a success within a very short time.
"We are very happy that we chose the T800, because it is just as rugged and reliable as its predecessor, just lighter than it. It simplifies our work and ensures for nearly error-free processing, together with our own ERP system," said Dietmar Haag, Head of Logistics.
Benefit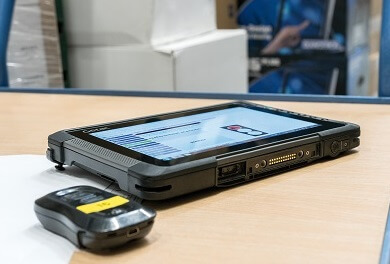 Employees in the Jarltech logistics centre greatly value the compact structural design, low weight and simple handling of the T800. The high-performance multi-touch display is easily readable, even in changing light conditions, thanks to 600 Nits. When it comes to robustness, Jarltech does not need to make any compromises with the T800. The tablet is IP65-certified against dust and splash water. Even falls from heights up to 1.8 metres or vibrations have no negative impact.
Particularly at peak times the mobile tablet's battery proves itself. Thanks to an integrated reserve battery, swapping is quick (even during operation), without having to first power down the system – saving valuable time. The comprehensive range of accessories rounds out the positive overall impression of the T800. Various wrist straps, shoulder straps and vehicle mounts gives the robust tablet maximum flexibility.
Check our other success stories.