At Getac, we manufacture industry-leading rugged solutions from the ground up, for some of the most extreme environments around the world. We work with our partners to deliver fully integrated eco-solutions for specialised industry applications.
KEY SELLING POINT DETAILS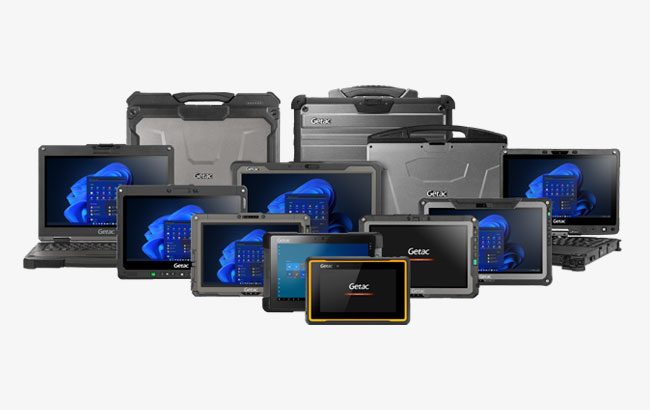 More Than 30 Years of Rugged Innovation
Experienced and dedicated rugged experts are ready to support you end-to-end through the scoping, planning, development, deployment, and maintenance stages to ensure you truly realize sustainable mobility.
Global Support for Over 150+ Countries + Industry Leading Warranty
With our global branch offices, over 1600 distribution, reseller, and technical support partners around the world, we reduce cost and increase efficiency. Plus, our industry-leading 3-5 year warranty includes a hassle-free guarantee, as well as rapid repair and return by Getac's in-house experts.
Industry-tailored Solution and Service
Working closely with customers and ecosystem partners, we can meet the industry demands and unique user scenarios. With innovative rugged devices, accessories, software and professional service, Getac Select® solutions reduce the TCO and solve industry business challenges for our customers.
Rugged Certifications
We use an internationally recognized, independent research, engineering and evaluation laboratory to certify that our products meet or exceed the MIL-STD-810H, MIL-STD-461G and IP ratings.
LumiBond® 2.0 and Sunlight-Readable Display
Our revolutionary LumiBond®2.0 technology bonds the display glass with the touch panel and LCD, enhances touch functionality and provides a display that is more readable, both indoors and out. Plus, Getac's QuadraClear® solution provides an energy-efficient LED display that is mercury-free, durable and consistent in brightness over time.
5G Ready Connectivity
With 5G compatible and built-in Wi-Fi 6 with 4G LTE, Bluetooth 5.1 and dedicated GPS*, you can complete your entire mission without delays or downtime. Getac design allows you to remain connected entirely at incredible speeds.
Safety and Security
Getac incorporates top privacy and security measures to ensure your data is secure and protected by high-level security such as biometrics identification, command synced with full access and complete control to protect mission-critical data at all end-points.
*Features included on request. Availability may vary by model.
APPLICATIONS DESIGNED FOR TRANSPORTATION & LOGISTICS
Click to learn more about Getac solutions designed with your situation in mind.
SEE WHAT OUR CUSTOMERS ARE SAYING
Getac products meet our expectations in terms of screen readability and compliance with ATEX regulations. The screen is very pleasant, and Android allows new functionalities while facilitating the speed of execution of operations which is appreciable. Getac solutions also have a high-quality finish with a robustness that seems to be fool proof.

We're a small customer – 30 units every three years or so. We know we're small and they know we're small, but they treat us the way some other rugged-computer makers only treat volume buyers whose 'refresher' orders are in the thousands rather than the tens.

Today's shipping companies require an efficient and highly organized port logistics platform, and thanks to innovative suppliers such as Getac, we've been able to provide increasingly efficient services for our customers. Thanks to our technology partner, Sanval of Genoa, which has continually supported us in this process of innovation, we have identified the fully-rugged F110 and T800 by Getac as the most appropriate products to support our technologies. Our operators, can manage all loading or unloading stages independently while keeping to the schedules and adhering to the correct operating methods, without fear of work interruptions due to adverse weather conditions, and actually improving the efficiency of their day-to-day tasks.

In our work, connectivity is very important. We need to connect the tablet with the vehicle, the meter, the printer and the dispatcher. Ruggedness is also important because failure will cause delays. All in all, Getac tablets make our work around 60% more efficient.
REDUCING INTERRUPTIONS AND IMPROVING OPERATIONS